VPNRanks.com Unveils VPNs That Successfully Enable Users to Access US Netflix Including PureVPN & ExpressVPN
Press Release
•
updated: Nov 30, 2018
A Study by VPNRanks.com reveals several VPNs that allow users to access U.S Netflix in the UK including the likes of PureVPN and ExpressVPN.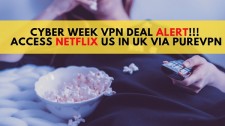 MADISON, Wis., November 30, 2018 (Newswire.com) - When it comes to online streaming services, there are not many platforms that come close to Netflix. It is available in over 190 countries, offering subscribers a variety of content to stream online. From popular movies to television shows, including its own original content, Netflix is a juggernaut in the online entertainment arena.
However, much to the frustration of users, Netflix does not offer a consistent library across all the regions, including the U.K. The content disparity limits the viewing options for British subscribers. There are many shows and movies missing from the U.K. Netflix library. Therefore, to enhance their viewing options, users look to access U.S. Netflix in the U.K.
The primary tool to unblocking U.S. Netflix library is through a VPN service. Users connect to a U.S. server offered by the VPN to change their virtual location and access more content titles. Unfortunately, Netflix started a crackdown on several VPN services and blacklisted their IP addresses. This meant that many popular VPNs stopped working and did not allow U.K. subscribers to access U.S. Netflix.
But a study by VPNRanks.com showed several VPN services that successfully allow access to U.S. library, which included services like PureVPN and ExpressVPN. The review website carried out a detailed testing process and unveiled different providers that work with Netflix. For users, this is an excellent opportunity to get hold of a working service, like availing this PureVPN VPN deal.
The study further unveiled that Netflix has been putting restrictions on various VPN providers for allowing users to access its content from other regions. However, the streaming giant is primarily taking action against free VPN services. Freemium providers provide users with shared IP addresses, which are easy to detect and blacklist on a server level.
According to Aazim Akhtar, Senior Editor at VPNRanks.com, "Our goal is to present users with complete information, with proven results of our testing, so that they can make an informed decision. Since it doesn't look like that Netflix will be offering same content library worldwide, the cat and mouse game between VPNs and the streaming giant won't end anytime soon. Therefore, users can bank on VPN providers that work and enjoy watching their favorite content on the US Netflix…"
PRESS CONTACT:
Phone Number: (608) 467-4928
E-mail: webmaster@vpnranks.com
Source: VPNRanks
Additional Links