Vodi to Serve as Global Fan Vote Partner for Miss Supranational 2017 and Mister Supranational 2017
The popular mobile app is partnering with two major international competitions to provide global audience engagement via live voting.
Press Release
-
updated: Nov 14, 2017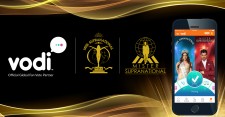 DULUTH, Ga., November 14, 2017 (Newswire.com) - Vodi, the dynamic fintech and messaging services app, is thrilled to announce that it will serve as the official global fan vote partner for the upcoming Miss Supranational and Mister Supranational competitions. The events, which will be held Dec. 1 and 2, 2017 in Krynica Zdroj, Poland and televised live in more than 140 countries, involve contestants from around the world who exemplify the organization's key tenets of glamour, fashion and natural beauty.
"We're excited to partner with the Miss and Mister Supranational organizations and provide our cutting-edge, real-time global voting platform," said Darren Lu, Vodi founder and CEO. "It's not every day that the chance comes along to be involved with international events of such prestige, and we think this partnership will go a long way in both helping us achieve our goals and furthering the mission of these organizations."
Vodi users can cast 10 votes per day, divided among contestants as they choose, for Miss Supranational from Nov. 16 to Dec. 1 and Mister Supranational from Nov. 20 to Dec. 2. In addition, voting during the preliminary events will also count toward contestants' final results as well as their standing in those preliminaries.
The app, as well as the voting service, is free. New users can sign up with the referral code MISSSUPRA17 or MISTERSUPRA17.
"We are looking forward to working together with Vodi this year for the incredibly important public voting of Miss Supranational 2017 and Mister Supranational 2017," said Gerhard Parzutka von Lipinski, executive producer of Miss Supranational and Mister Supranational. "Partnering with such an experienced platform, we are very confident of a smooth operation for what will no doubt be our biggest public vote ever."
Accessing the platform is as simple as selecting the "Voting" option within Vodi's carousel menu, tapping on the desired event, choosing contestants for whom to vote and submitting the ballot. Fans can also vote by sharing or liking the Miss Supranational and Mister Supranational Facebook pages. The winners of the overall fan vote on Vodi will automatically advance to the final round of their respective main events.
Miss Supranational was first held in 2009 in Plock, Poland. The competition has made a huge impact in the pageant world, where experts have rated Miss Supranational as one of the top three most important and prestigious international pageants in the world. Over the years, Miss Supranational has become associated with high standards of television production, stage design and entertainment. The event was televised in more than 140 countries last year, and the reigning Miss Supranational is Srinidhi Shetty of India.
Mister Supranational was held for the first time in 2016 and featured contestants from 36 countries around the world. Diego Garcy of Mexico was the inaugural winner and is currently the reigning Mister Supranational.
Vodi, which offers a host of financial products alongside vital communications features, launched its global interactive voting platform in January 2017 by serving as the Global Fan Vote Sponsor of Miss Universe. The app later partnered with Miss USA (May 2017) and Miss Panama (July and August 2017) to serve as a sponsor and voting platform, and this pioneering interactive service is available for all events from small, local competitions to massive international contests.
For more information, high-resolution images and interview opportunities, contact media@vodi.io or call (678) 757-7070. Visit our blog at www.vodi.io/blog for more Vodi news.
About Our Company
Vodi is a global fintech and communication services app and an all-in-one mobile platform. It is a product of MilTec Platform, Inc., headquartered in Atlanta, Georgia (USA). Established in 2014, MilTec offers IT platforms and mobile applications. Visit us at www.vodi.io and www.miltecplatform.com.
Source: Vodi
Share:
---
Categories: Telecommunications, Instant Messaging and Chatting, Mobile and Smart Phones, Financial News
Tags: app, financial, fintech, international calling, Miss Supranational, mobile, OTT, pageant, phone, prepaid recharge, voting
---