Vital Ground Unveils New 'Connecting Landscapes' Logo
Press Release
•
updated: Jan 26, 2018
Design features familiar 'Great Bear' grizzly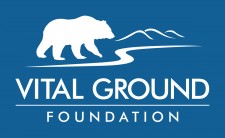 MISSOULA, Mont., January 26, 2018 (Newswire.com) - As part of a larger rebranding process that will draw new audiences to the organization, The Vital Ground Foundation has released a new logo featuring a familiar grizzly. Derived from acclaimed Montana artist Monte Dolack's painting, "The Great Bear," the logo's figure of a walking grizzly bear matches the bruin that adorns Vital Ground's popular charity license plate.
A nonprofit land trust based in Missoula, Vital Ground partners with landowners and communities to conserve and connect habitat for grizzly bears and other wildlife and to prevent conflicts between bears and humans. Through conservation agreements with landowners, land purchases and other strategic partnerships, Vital Ground has helped conserve more than 617,000 acres in Montana, Idaho, Wyoming, Washington, Alaska and British Columbia since its founding in 1990.
Vital Ground's license plate program has served as one of the organization's most visible methods of outreach and fundraising over its nine years in circulation, with Dolack's art and its conservation message making the plate one of Montana's most popular. That familiarity made the walking grizzly an easy choice to include on the new logo. With the shapes of a mountain range and winding river accompanying the big bear, the design conveys the landscape-wide impact of Vital Ground's conservation work.
"We are fortunate to partner with Montana's best-known artist who has helped Vital Ground amplify our brand," said Kevin Rhoades, director of communications for Vital Ground. "Dolack's bear, alongside the stream and mountains in our new logo, should help a worldwide audience understand that connecting landscapes and protecting wildlife is at the epicenter of what we do."
With a versatile color scheme, the new logo will feature prominently on Vital Ground's website, electronic and print outreach material and a forthcoming line of new Bear Mart merchandise. As part of its larger rebranding process, Vital Ground will also launch a redesigned website, biannual newsletter and biennial report later this year.
An accredited land trust and 501(c)(3) organization, Vital Ground works cooperatively with landowners, communities and state and federal agencies to conserve some of Earth's most magnificent and unique places for people, grizzly bears and entire natural communities. For more information, contact The Vital Ground Foundation, 20 Fort Missoula Rd., Missoula, MT 59804; also available at (406) 549-8650 and info@vitalground.org.
Source: The Vital Ground Foundation
Related Media