Vital Ground, Kodiak Cakes Team Up for Grizzly Conservation
Press Release
•
updated: Jan 19, 2018
New business partnership to support habitat protection and conflict prevention for bears.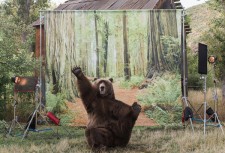 Missoula, Mont., January 19, 2018 (Newswire.com) - Your Saturday morning pancakes can now support grizzly bear conservation, thanks to The Vital Ground Foundation's newest business partnership. On Friday, the Missoula-based land trust that works for grizzly habitat protection and conflict reduction formalized a product royalty agreement with Kodiak Cakes, a breakfast foods company based in Park City, Utah.
Under the partnership, which was first proposed by Bart's trainers and Vital Ground co-founders Doug and Lynne Seus, Kodiak Cakes will contribute an annual sum to Vital Ground in exchange for use of the foundation's name and logo in print advertisements, product literature, point-of-purchase displays and other promotional materials.
Through our partnership with Vital Ground, and with Bart's help, Kodiak Cakes is working to support efforts to increase the awareness and effectiveness of conservation efforts wherever grizzly bears may roam.

Allison Brown, Public Relations Manager, Kodiak Cakes
The pact comes after Bart the Bear II, one of Vital Ground's Animal Ambassadors, appeared in a recent film advertisement for Kodiak Cakes' new line of whole-grain toaster waffles.
"Kodiak Cakes has a tradition of protecting nature, so joining forces with the Seuses and supporting Vital Ground has been a natural fit," said Allison Brown, public relations manager for Kodiak Cakes. "Through our partnership with Vital Ground, and with Bart's help, Kodiak Cakes is working to support efforts to increase the awareness and effectiveness of conservation efforts wherever grizzly bears may roam."
Selling a single pancake and waffle mix, Kodiak Cakes launched in Park City in 1995. The family-owned company reaches back two generations for its origin story, to a grandfather's recipe for hearty whole-wheat flapjacks. After first distributing their add-water-only mix to gift shops in Park City and fellow ski towns Sun Valley, Idaho, and Jackson, Wyo., the brand has grown steadily and now stocks grocery shelves nationwide, producing nine variations on the original pancake and waffle mix, along with granola, oatmeal and other baking mixes.
"We are proud to partner with a vibrant company that has ties with Vital Ground's founders and wildlife ambassador Bart the Bear II," said Kevin Rhoades, director of communications for Vital Ground. "By combining forces with Kodiak Cakes and other business partners, we are able to leverage dollars to aid the long-term survival of grizzly bears and other species in the Northern Rockies."
The partnership with Kodiak Cakes continues Vital Ground's successful tradition of joining forces with conservation-minded food and beverage producers. Since 1993, Vital Ground has teamed with Montana Coffee Traders of Whitefish, Mont., which donates to the foundation one dollar from the sale of each pound of its Grizzly Blend roast. Vital Ground also partners with Ten Spoon Vineyard and Winery of Missoula, which contributes one dollar for each bottle sold of its Prairie Thunder, a red blend featuring a grizzly roaming through prairie grass on its label.
Other Vital Ground business partners include Amazon Smile, Google Ad Grants, REI and numerous wildlife artists and photographers. Beyond product royalty agreements and sponsorships, the foundation's business collaborations include employee matching gift programs, business memberships and donations of in-kind services.
Now, with Kodiak Cakes officially joining the grizzly conservation cause, Vital Ground supporters can help bears in a new—and tasty—way. So after picking up a box of Kodiak Cakes for the weekend, enjoy your hearty, bear-friendly pancakes or waffles with a fresh cup of Grizzly Blend coffee, perhaps while shopping online through Amazon Smile or REI.
Just make sure you save the wine for dinnertime.
An accredited land trust and 501(c)(3) organization, Vital Ground works cooperatively with landowners, communities, and state and federal agencies to conserve some of Earth's most magnificent and unique places for people, grizzly bears, and entire natural communities. For more information, contact The Vital Ground Foundation, 20 Fort Missoula Rd., Missoula, MT 59804; also available at (406) 549-8650 and info@vitalground.org.
Source: The Vital Ground Foundation
Related Media
Additional Links