Vital Ground Donates Isolated Inholding in Southern Cabinet Mountains to Lolo National Forest
Press Release
•
updated: Dec 14, 2017
Montana land trust takes next step to conserve critical roadless area for threatened grizzly bears and other wildlife.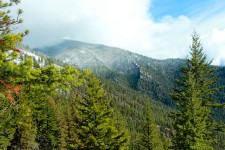 MISSOULA, Mont., December 14, 2017 (Newswire.com) - To consolidate ownership and streamline management of a valuable roadless area for grizzly bears and other wildlife, The Vital Ground Foundation and U.S. Forest Service completed the transfer of 43 acres in northwest Montana to the Lolo National Forest on Wednesday.
Acquired last fall by Vital Ground, a Missoula-based land trust, the steep, conifer-filled parcel near Thompson Falls, Montana, could have created a significant management challenge for the Forest Service. That's because its previous landowner was considering development of the acreage, and access rights would have mandated an expensive road construction process. Instead, the land will now consolidate into the Cube Iron-Mt. Silcox Roadless Area surrounding it, preserving its wild character and ensuring consistent management of seasonally important wildlife habitat at the southern edge of the Cabinet Mountains.
Development of this parcel would have fragmented important wildlife habitat, especially for grizzly bears.

David Hattis, Plains/Thompson Falls District Ranger, Lolo National Forest
"Development of this parcel would have fragmented important wildlife habitat, especially for grizzly bears," said USFS Plains-Thompson Falls District Ranger David Hattis. "The acquisition will maintain the integrity of the Cube Iron-Mt. Silcox Roadless Area and preserve the scenic values that are identified as a goal for forest management in this area. Vital Ground has worked hard to make this happen and we're grateful for their important contributions on these public lands."
Overlooking the Clark Fork Valley amid sprawling ponderosa pine forest, the Weber Gulch property hosts some of the southernmost undeveloped habitat for grizzly bears in the Cabinet-Yaak Ecosystem. That grizzly subpopulation numbers around 50 animals, according to a recent study, and shows a high risk of inbreeding due to its genetic isolation from other subpopulations. The U.S. Fish and Wildlife Service targeted a population of roughly 100 grizzlies in the Cabinet-Yaak when it developed the area's grizzly bear recovery plan following endangered species listing in 1982. The fragility of this group makes conserving habitat at the edge of the ecosystem crucial to ongoing recovery.
Beyond bears, Weber Gulch serves as a popular access point for local hikers and hunters. A Forest Service trailhead at the base of the drainage provides entry to nearly 40,000 acres of roadless backcountry within the Cube Iron-Mt. Silcox area. Mid-elevation forest like the Weber Gulch parcel attracts elk and deer during fall and spring as they move between high-elevation summer grounds and lower winter range. The drainage is also visible from the Clark Fork Valley and Montana's picturesque Highway 200.
"Although this parcel is relatively small, it is situated high above the valley floor, well above any other existing development, and directly within the view-shed of Thompson Falls and the Highway 200 corridor," said Ryan Lutey, executive director of Vital Ground. "In addition to the ecological disruption and management challenges that development of the parcel would have created, it presented a significant threat to the attributes that make the lower Clark Fork Valley a very popular scenic byway for tourism in western Montana."
Because of the property's situation within the designated roadless area, the transfer to Lolo National Forest will not change its value as wildlife habitat. Removing a private inholding will simplify the Forest Service's management of the area while allowing Vital Ground to turn its resources toward new conservation priorities.
Vital Ground's initial acquisition of the property was made possible by grants from the Montana Fish & Wildlife Conservation Trust, the Cinnabar Foundation, the Cross Charitable Foundation and the Chicago Zoological Society, along with individual donations.
An accredited land trust and 501(c)(3) organization, Vital Ground works cooperatively with landowners, communities, and state and federal agencies to conserve some of Earth's most magnificent and unique places for people, grizzly bears, and entire natural communities. For more information, contact The Vital Ground Foundation, 20 Fort Missoula Road, Missoula, MT 59804; also available at (406) 549-8650 and info@vitalground.org.
For more information on Lolo National Forest, contact Boyd Hartwig, Public Affairs, Building 24 Fort Missoula Road, Missoula MT 59804; also available at (406) 329-1024 and bchartwig@fs.fed.us.
Source: The Vital Ground Foundation
Related Media