Vision Films Proudly Presents the New York City Musical Phenomenon 'Stuck'
Press Release
•
updated: Aug 8, 2019
Starring Giancarlo Esposito, Ashanti, Amy Madigan, Omar Chaparro, Arden Cho and Gerard Canonico, "Stuck" will be available on VOD August 27 and DVD Sept. 17, 2019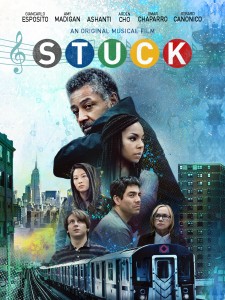 HOLLYWOOD, Calif., August 8, 2019 (Newswire.com) - Vision Films Inc. in association with MJW Films and Little Angel Productions are delighted to present the heartwarming original pop musical film, Stuck on VOD and DVD for the first time. Taking place over one fateful day on a New York City subway, a group of strangers from different walks of life are unexpectedly brought together in an uplifting celebration of life and kindness through music. Directed by Michael Berry and adapted for the screen by Berry and Riley Thomas, the film that Variety says "benefits from a lot of heart and not being like anything else out there" enjoyed a critically acclaimed theatrical run earlier this year.
Produced by Mike Witherill (John Wick and Drinking Buddies) and Joe Mundo (Sunset Strip and Cardboard Boxer), Stuck will be released across all major VOD platforms on August 27 and on DVD Sept. 17, 2019.
"This movie is wonderful. It has the flavor of "Rent," but its acting, story and songs are better." - Jackie K. Cooper
Based on the stage musical by Riley Thomas of the same name which opened in Chicago in 2008 and played off-Broadway with the New York Musical Festival in 2012, Stuck stars Giancarlo Esposito (Breaking Bad, Better Call Saul), Amy Madigan (Gone Baby Gone, Field of Dreams), Grammy award-winning artist Ashanti, Arden Cho (Teen Wolf, Chicago Med), Omar Chaparro (Pokemon Detective Pikachu, Show Dogs) and Gerard Canonico (Be More Chill, Not Fade Away) as the New York subway commuters with stories to sing.
"When they sing to each other, they sing to us. What they sing about speaks about all of us." -Every Movie Has A Lesson
A New York subway train stops in the tunnel beneath the city with six complete strangers stuck inside the rear car. The strangers are a cross-section of New Yorkers of different races, cultures and ages. The emotions of the trapped, frustrated strangers simultaneously explode as the subway car becomes a kind of magical, musical conduit cell — a place where strangers reveal through song more of themselves than any of them could ever have imagined.
At center stage is Lloyd (Giancarlo Esposito), a homeless man who seems to be a fixture on the subway car. Lloyd is a mystery — a combination observer, prophet, mediator, artist, friend and psychologist. Or perhaps he is just a lost soul who is possibly insane. He is joined at various stops by five other commuters. Eve (Ashanti), a brooding but strong, intelligent, career-orientated African-American woman dealing with a troubling personal situation. Ramon (Omar Chaparro), a hard-working Hispanic man working multiple jobs to make ends meet for his wife and girls. Alicia (Arden Cho) a guarded and reclusive Asian dancer with a devastating secret. Caleb (Gerard Canonico), the young comic book artist who has been loitering at the studio where Alicia dances. And Sue (Amy Madigan), a college music professor still dealing with the heavy loss of a loved one.
The music and songs in the film are all original, with musical styles specific to each character — a lyrical and musical extension of their culture, thoughts, story and experience with the elements of pop, rap, rock, classical and motown — set almost entirely on the New York City subway.
Stuck will be available on digital on August 27 for an SRP of $4.99-$9.99 from platforms including iTunes, Vudu, Playstation, Google Play, Xbox, and FandangoNow, as well as cable affiliates everywhere and to buy on DVD for $19.95 on Sept. 17, 2019.
"Stuck has been one of the greatest, most rewarding, and most challenging projects I have ever been associated with," says director/co-writer, Michael Berry. "My hope is that these six characters who are trapped on this train and are so much more than they appear at first glance will remind audiences that now, more than ever, we need to meet others with more compassion. Truth is, every one of them and every one of us, no matter where we come from, is someone's daughter, son, mother, father, uncle or aunt. We are way more alike than we are different and we are all stuck here together, just trying to get where we are going."
"We are proud to be presenting Stuck on VOD and DVD", says Vision Films CEO/ Managing Director, Lise Romanoff. "With its resonating themes of kindness and humanity, it is sure to bring a smile to everyone's face as they sing along to the unforgettable original soundtrack!"
Preorder STUCK
iTunes: https://itunes.apple.com/us/movie/stuck/id1473874621?ls=1
We are excited to present Stuck for review and editorial inclusion. Review links are available upon request. Interviews are also available with the cast and crew.
For more information, or to request a screener for review:
Nicole Newton-Plater
For Vision Films
nicole@EPECmediagroup.com
+1-424--335-4734
Source: Vision Films
Related Media