Vision Films Presents the Romantic Culinary Delight Perfect for Valentines Day, OFF the MENU
Press Release
•
updated: Jan 18, 2018
Available on DVD/VOD on February 6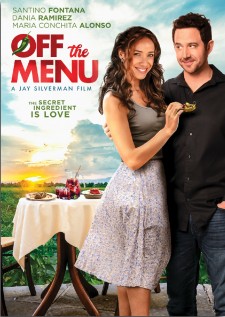 Hollywood, CA, January 18, 2018 (Newswire.com) - ​Vision Films and Jay Silverman Productions are proud to present this charming romantic comedy about finding love where you least expect: Off The Menu. Directed by Jay Silverman and shot on location in New Mexico, this enticing film with its delectable cuisine is a delightful celebration of the relationship between culture and food and it's wondrous power to bring people together.
Starring Dania Ramirez (Once Upon A Time, Devious Maids), Santino Fontana (Frozen, Crazy Ex-Girlfriend), Makenzie Moss (Steve Jobs, CSI: Crime Scene Investigation), Maria Conchita Alonso (The Running Man, Predator 2), Kristen Dalton (The Departed, Jack Reacher), Andrew Carter (2 Broke Girls, New Girl), and Jen Lilley (A Dash of Love, Days of Our Lives), Off The Menu will will make its World Premiere at the Santa Barbara International Film Festival on Thursday, February 1, with an encore screening on Saturday, February 3. It will also be featured at the 2018 Santa Fe Film Festival on February 8, 2018.
Off The Menu will be available February 6 on Digital for an SRP $4.99 - $9.99 Rent or Buy across all platforms and to Buy on DVD for $14.95.
When the unlikely heir to a Mexican fast food franchise, Joel (Santino Fontana) reluctantly accepts a mission to find new ideas for their menu in New Mexico, he find himself in a small, dusty town where foodies travel from all over to salivate over the culinary treats of a local, authentic, and feisty female chef, Javiera (Dania Ramirez). Opposites attract in this sweet and romantic story about food, family, and love.
Director Jay Silverman says "When my team and I began developing Off The Menu, I was inspired by Michael Pollan's novel The Omnivore's Dilemma to show how huge a role that food plays in all our lives," says director and executive producer Jay Silverman. "Joel's family owns one of America's largest fast-food chains, while our Chef Javiera has a farm-to-table approach to her melt-in-your-mouth-good cooking. This cultural detail was central to our story, and enabled our characters romantic journey to begin".
Producer Bethany Cerrona says "We are very proud that the CAST was over 50% female and Hispanic, which made for a more inclusive experience and authentic story that audiences will be sure to fall in love with."
Lise Romanoff, Managing Director/ CEO Vision Films says, "The tagline: 'The secret ingredient is love', says it all! Dania Ramirez not only charms her co-star Santino Fontana, the audience will be captivated as well."
https://www.offthemenuthemovie.com/
https://www.facebook.com/offthemenuthemovie/
https://twitter.com/offthemenumovie
https://www.instagram.com/offthemenumovie/
#offthemenumovie
Pre-order Off The Menu
Amazon - http://bit.ly/OtM-AmazonDVD
ABOUT VISION FILMS:
Vision Films is an Independent Worldwide Distributor and VOD Aggregator of over 800 Feature Films, Documentaries and Music Programs from some of the most prolific independent film producers in the world. Led by Lise Romanoff, Managing Director/CEO Worldwide Distribution, Vision Films releases 2-4 films a month, across Theatrical, VOD, DVD, and television. www.visionfilms.net
ABOUT JAY SILVERMAN PRODUCTIONS:
Jay Silverman Productions specializes in producing Television and Film. Founded in 1980 by award-winning director and photographer Jay Silverman, Jay Silverman Productions strives to be on the cutting edge of this ever-evolving industry with the creation of A&E's "The Cleaner" and the Award Winning Film "Girl On The Edge".
###
We are excited to present Off The Menu for review, and editorial inclusion. Review links are available; request yours today!
PRESS CONTACTS:
Nicole Newton-Plater
​For Vision Films
Nicole@ppmg.info
310-860-7774
Source: Vision Films
Related Media