Vision Films Presents the Feel Good Movie of the Holiday Season MY FIRST MIRACLE
Now available on DVD/VOD
Press Release
-
updated: Dec 11, 2017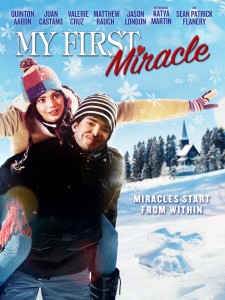 Hollywood, CA, December 11, 2017 (Newswire.com) - Vision Films is proud to present My First Miracle, a heartwarming family film sure to delight this holiday season. Now available on DVD and Video on Demand, Rudy Luna's moving film reminds us that miracles are always possible if we have faith and believe, especially during the holidays.
Starring Sean Patrick Flanery (The Boondock Saints), Jason London (Dazed and Confused), Quinton Aaron (The Blind Side), Valerie Cruz (Cellular), Matthew Rauch (The Wolf of Wall Street), Juan Castano (Shades of Blue) and Katya Martin (The Invisible Worm), My First Miracle not only encourages one to have faith in the most hopeless of situations, but also the heartbreaking effects  of cancer on both the patient and everyone close to them.
My First Miracle is now available on Digital for a SRP $4.99 - $9.99 Rent or Buy across all platforms and to Buy on DVD for $9.99.
In this heartwarming inspirational film, a teenage girl battling a rare kind of cancer hopes to find her first true love before it's too late. Her parents are struggling due to money troubles and they must locate a rare multi-racial donor to treat her. Destiny brings her together with a runaway, and together they witness a miracle and a love deeper than she could have ever expected.
Writer/director Rudy Luna was inspired to make My First Miracle after experiencing the tragedy of his own family member being diagnosed with cancer. He wanted to tell a story not just about the patient, but also about the way a family copes during the crisis.
"In this particular story, the young girl with cancer needs a bone marrow transplant and because she is bi-racial, her match is nearly impossible", says Luna. "I want people to understand how important it is, especially if you are bi-racial, to register as bone marrow donor.  This could literally save someone's life".
"My First Miracle was a passion project for Kenny Lofton and I" says producer, Brenton Earley. "We knew when we first read the script that this film would have the ability to change people's lives by bringing awareness about Myelodysplastic Syndrome and bone marrow registry".
Lise Romanoff, Managing Director/ CEO of Vision Films says, "We are so proud to have the opportunity to release a film that can inspire and actually make a difference in someone's life.  Viewer will surely be moved by Katya's performance."
Get My First Miracle
Amazon:  http://bit.ly/MFM-AmazonVideo
iTunes: http://bit.ly/MFM-iTunes
Google Play: http://bit.ly/MFM-GooglePlay
Fandango Now: http://bit.ly/MFM-FandangoNow
https://www.facebook.com/MyFirstChristmas/
ABOUT VISION FILMS:
Vision Films is an Independent Worldwide Distributor and VOD Aggregator of over 800 Feature Films, Documentaries and Music Programs from some of the most prolific independent film producers in the world.   Led by Lise Romanoff, Managing Director/CEO Worldwide Distribution, Vision Films releases 2-4 films a month, across Theatrical, VOD, DVD and television.  www.visionfilms.net
ABOUT FILMPOOL:
Filmpool is a full service production and post-production company that specializes in family-friendly multi-cultural content for worldwide distribution. Led by former Major League Baseball Player Kenny Lofton and Producer / Veteran Actor Brenton Earley, they currently have family comedy clip series, Lawd Have Mercy on UMC (Urban Movie Channel).  They also won "Audience Choice Award" at ABFF (American Black Film Festival) for the movie The Fix in 2016. http://filmpool.net/
# # #
We are excited to present My First Miracle for review, and editorial inclusion. Review links are available; request yours today!  
PRESS CONTACTS:
Nicole Newton-Plater
For Vision Films
Nicole@ppmg.info
310-860-7774
Source: Vision Films
Share:
---
Categories: Movies, Religion, Arts and Entertainment
Tags: breaking news, cancer, christianity, christmas, faith, family, film, human interest, relationships, religion
---