Vision Films is Proud to Announce the World Premiere of the New Teen Dance Hit, TO THE BEAT!
Exclusive to CYA Live on March 3
Press Release
-
updated: Feb 20, 2018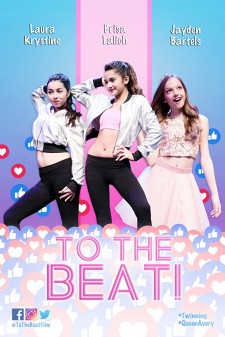 Hollywood, Calif., February 20, 2018 (Newswire.com) - Vision Films and Leonian Pictures are proud to present the spectacular, fun and inspirational new teen dance hit, To The Beat! In her directorial debut, Jillian Clare (Days of our Lives, Victorious: Freak the Freak Out) has created the perfect film for the teens of this generation who dare to take their dreams to the next level. To The Beat! will make its World Premiere online in a very special CYA Live (https://cya.live/) VIP event on Saturday, March 3 2018.
Starring Laura Krystine (Instructions Not Included), Brisa Lalich (Model), Jayden Bartels  (Dance Moms, Musical.ly Star), Jake Brennan (Richie Rich), Jaheem Toombs (100 Things to Do Before High School) and Trevor Larcom (Fuller House, Fresh Off The Boat), To The Beat! will be released on DVD and VOD on Tuesday, March 13 2018.
This film means the world to me and I'm so proud of everyone involved. I hope that kids enjoy watching it and maybe even learn a thing or two about kindness and supporting their friends and family!
Fourteen-year-old twins Mackie (
Laura Krystine
) and Mia Castillo (
Brisa Lalich
) have been dancing since they were toddlers. They support each other's passion through competitions and rehearsals, even though they prefer different styles: Mia loves tap and Mackie loves jazz. When their favorite pop star (
Chris Trousdale
) launches an online contest to nd the most unique dancers for his new music video, the twins each form their own team to compete. With the help of their family and friends, Pauly (
Jaheem Toombs
) and Doug (
Trevor Larcom
), they campaign for the most votes on social media. Meanwhile, their arch-rival and neighbor Avery, (
Jayden Bartels
), uses her charm and resources to gain the upper hand in the competition.
Fans of the film will be able to take part in the World Premiere of To The Beat! and watch it wherever they are at 11am on Saturday, March 3 through CYA Live, the platform that allows audiences to watch films along with the cast and crew online. Stars of the film, Laura Krystine, Brisa Lalich and Jayden Bartels will join fans watching their film on CYA Live, as well as welcome fans to the event and participate in a Q&A after the film.
"We are thrilled to align with CYA Live for the global online release of To The Beat!" says producer Susan Bernhardt. "Our fans on social media have been so supportive and anxious to watch the movie - we're excited to use this platform so they can join the VIP premiere and watch with our three leads, Laura, Brisa and Jayden.  It's going to be a once-in-a-lifetime experience!"
Director Jillian Clare says of her debut feature film,"This film means the world to me and I'm so proud of everyone involved. I hope that kids enjoy watching it and maybe even learn a thing or two about kindness and supporting their friends and family!"
Managing director and CEO of Vision Films Lise Romanoff says, "The film captures the innocence and energy of other high school competition classics. We're thrilled to offer this upbeat film to young audiences and dance lovers across the country".
Tickets for the To The Beat! World Premiere are available from the event's CYA Live page https://cya.live/event/223 and cost $9.99. Beginning Friday, February 16 at 3pm, To The Beat! Instagram followers will have the chance to purchase their tickets at 50% off by sharing the event with their friends.
https://www.facebook.com/tothebeatfilm/
https://www.instagram.com/tothebeatfilm/
#twinning #queenavery #tothebeatfilm
ABOUT VISION FILMS:
Vision Films is an Independent Worldwide Distributor and VOD Aggregator of over 800 Feature Films, Documentaries and Music Programs from some of the most prolific independent film producers in the world.   Led by Lise Romanoff, Managing Director/CEO Worldwide Distribution, Vision Films releases 2-4 films a month, across Theatrical, VOD, DVD, and television.  www.visionfilms.net
ABOUT LEONIAN PICTURES:
Leonian Pictures offers full services for a multitude of independent projects including Film, Television and New Media. Following the final season of the multi-award winning hit teen digital drama Miss Behave, Leonian went on to produce their first feature film, By God's Grace, and their second independent series, Acting Dead.  The latter has gone on to garner numerous awards and recognition, including a Prime Time Emmy for star Patrika Darbo.  Leonian Pictures is currently in Post-Production for the highly anticipated feature, Pretty Broken and is thrilled to announce the release of their upbeat teen dance movie, To The Beat! on March 13th, 2018! leonianpictures.com
#
We are excited to present To The Beat! for review, and editorial inclusion. Review links are available; request yours today!  
PRESS CONTACTS:
Nicole Newton-Plater
​For Vision Films
Nicole@ppmg.info
310-860-7774
Source: Vision Films
Share:
---
Categories: Movies, Dance, Arts and Entertainment
Tags: breaking news, cinema, competition, current news, dancing, film, friends, teenagers, womens rights, world interest, youth
---