VetScalpel Generation of Surgical Lasers is Launched by USA-Based Laser Innovator and Manufacturer Aesculight
Press Release
•
updated: Aug 28, 2017
Revolutionizing Veterinary Laser Surgery. Again.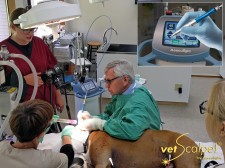 SEATTLE, August 28, 2017 (Newswire.com) - Aesculight®, a division of LightScalpel®, LLC, is announcing its new line of VetScalpel® CO2 surgical lasers. Built on over 20 years of American veterinary laser surgery innovation, Aesculight® is revolutionizing veterinary laser surgery once again.
New and Exclusive VetScalpel® Features and Enhancements
The VetScalpel generation of Aesculight surgical lasers brings exclusive high laser power for the fastest speed laser surgery, it miniaturizes laser handpieces, and simplifies controls with the addition of 35 customizable presets and an enhanced clinical library.

Peter Vitruk, PhD, MInstP, CPhys, DABLS, Founder - Aesculight
Higher Power: Introducing the highest-powered veterinary surgical CO2 laser available on the market — the VS-30. This revolutionary laser system offers 30 watts of SuperPulse power and 45 watts of continuous wave power.
Small Ergonomic Tipless Handpieces: Aesculight® has already delivered the most ergonomic veterinary CO2 surgical laser delivery system on the market. The VetScalpel® system offers the smallest pen-sized handpieces. The best part is the handpieces are tipless; this means there is no more additional cost per procedure.
Rugged Flexible Fiber: The new and longer (1 ¾ meters) flexible hollow waveguide fiber is even more durable.
Articulated Mast Eliminated: The improved flexible fiber now connects directly on top of the laser and without an articulated focusing mast assembly.
Enhanced Controls, Presets, and Clinical Library: With the upgraded software interface and perfected pulsing controls for enhanced precision, laser surgery is now easier than ever. VetScalpel® provides 35 customizable presets and a new redesigned clinical library allowing for easier and faster navigation of expert-guided clinical procedures.
To learn more or to schedule an in-office demo with the All-New VetScalpel® by Aesculight®, please visit www.aesculight.com
About Aesculight®
Aesculight®, a division of LightScalpel®, LLC based near Seattle, Washington, designs and manufactures CO2 surgical lasers for veterinary applications. Aesculight® is the only manufacturer of veterinary surgical CO2 lasers in the United States. Aesculight's founders, Paul Diaz and Dr. Peter Vitruk, have been intimately involved in the design and manufacture of CO2 surgical lasers since the mid-1980's. Most of Aesculight's laser engineers and technicians have been at the forefront of surgical and industrial laser technology since the early 1990's.
Media Contact
Daniel Chase
1 (866) 589.2722
info@aesculight.com
www.aesculight.com
Source: Aesculight