VersaDesk Announces Upcoming Improvements to the Original Electric Push Button Sit-to-Stand Solution!
Press Release
-
updated: Sep 20, 2017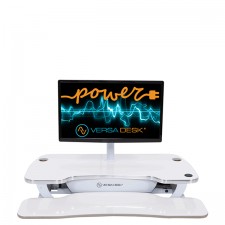 LOS ANGELES, September 20, 2017 (Newswire.com) - Sitting for long hours with little to no activity continues to be an international pandemic. Studies suggest that a sedentary lifestyle is the leading cause of diabetes, osteoporosis, and heart disease.
In Too Much Sitting: The Population-Health Science of Sedentary Behavior, health scientists studying at-risk health cycles tell us that "Time in sedentary behaviors is significant, if only because it displaces time spent in higher intensity, physical activity — contributing to a reduction in overall physical activity and energy expenditure."
Furthering bad health habits by spending endless hours in a chair rather than making an effort toward physical activity is dangerous, and the majority of us don't realize the danger until it's too late!
Rachael Galloway, Chief Strategy & Branding Officer for VersaDesk, had this to say, "When we created the electric desk riser, we wanted to design a product that didn't force people with neck and back injuries to have to continue to suffer," says Galloway. "Our team felt that making a standing desk riser that took up much less space on a desktop than our competitors would give us an edge in the market. Other existing products are difficult to maneuver, and we learned that a lot of manual desk users still, to this day, complain about damaged computer equipment. Our products eliminate a lot of those potential problems with a simple push of a button. The VersaDesk is a game changer, and we will continue making these types of innovative technological advancements as long as we're here."
To view a VersaDesk product demonstration, please click the link below: https://www.youtube.com/watch?v=Ji-L_9YpCHg
To speak with a live sales or customer service representative, please contact us!
Email: sales@versadesk.com or support@versadesk.com ​
Call: +1 888.465.1660  (M-F, 7 a.m.- 5 p.m.)
About- VERSADESK is a leader in standing desk solutions that specialize in innovative designs for your office, home, or personal workspace. Dealing directly with both private businesses and consumers, VersaDesk products will always stand out from our competitors! From urgent needs to specialized project requirements, you can always be assured that we provide the most professional, creative, personalized and prompt service in the industry.
Source: VersaDesk
Share:
---
Categories: Consumer Electronics, Desktop Publishing, Active and Healthy Living, Breaking News, Healthcare and Medical News, A&E News
Tags: Electric desk riser, height adjustable desk, office furniture, sit-to-stand desk, standing desk
---