Urthbox Gives Away 5,000 Free Snack Boxes in April 2017 for Its "UrthDay" Celebration in Observance of Earth Day
Press Release
•
updated: Apr 11, 2017
Donates to environmental non-profits 350.org, Friends of The Earth, Nature Conservancy, and GreenPeace.org for every box claimed in April.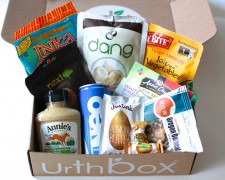 San Francisco, CA, April 11, 2017 (Newswire.com) - UrthBox, the national monthly subscription delivery service for healthier earth-conscious and sustainable snack foods and beverages, today announced that the company will celebrate Earth Day this year by giving away 5,000 free snack boxes to earth-conscious fans every day for the month of April. Additionally, the company will also make donations for every free box claimed, to the environmental non-profits 350.org, Friends of The Earth, The Nature Conservancy and GreenPeace.org
Starting at 4 AM Pacific Standard Time on Tuesday April 11th through to 11:59 PM Pacific Standard Time on Sunday April 30th, health and earth conscious consumers nationwide will get a free UrthBox, valued at up to $49 USD, by visiting www.urthbox.com/urthday and being one of 5,000 people to claim their free box. Each box will introduce a variety of ethically sourced, GMO-free and organic foods, snacks and beverages from innovative environmental and health conscious consumer brands. Consumers will pay a $2.99 shipping and handling fee for the free UrthDay box.
"As world citizens, we are up against some life-changing ethical and environmental global challenges involving food sourcing and manufacturing," says Ben Behrouzi, CEO of UrthBox. "It's one of the reasons why we believe it's so important to not only make GMO-free and ethically-sourced food products more readily available in today's marketplace, but to also help accelerate consumer awareness in an effort to drive greater change in the food and beverage industry."
UrthDay evolved from UrthBox's mission—to promote the importance of health and sustainability with food to consumers. The company offers its monthly subscription service in Classic, Gluten-Free, Vegan and Diet variations to consumers in the U.S. and Canada nationwide. For brands, UrthBox serves as a national platform to access and educate conscious consumers on healthier and more sustainable food options available in the marketplace.
About UrthBox
UrthBox, based out of San Francisco, is the best way to discover healthier and more conscious foods, snacks and beverages delivered right to your door every month. To learn more, please contact press@urthbox.com. To participate in UrthDay and get your free first UrthBox, visit http://www.urthbox.com/urthday
Source: UrthBox
Related Media
Tags
Additional Links