UrthBox Discontinues Free Trial Offers and Focuses on Growth Through Amazing Customer Service
Healthy food subscription service redoubles its efforts to expand through first-rate service quality and customer care.
Press Release
-
updated: Jan 31, 2018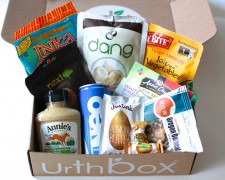 SAN FRANCISCO, January 31, 2018 (Newswire.com) - UrthBox, the leading healthy and GMO-Free monthly food subscription service, today announced that the company had permanently discontinued its free-trial promotional program as of Dec. 1, 2017, and restructured its customer service department and policies to offer consumers prorated refund options at any time during their subscription term.
Prior to its discontinuation, the company's free-trial program was available in limited quantities over a period of 12 months from 2016 to 2017. Consumers were able to attain fully discounted full-size subscription boxes by paying for just the shipping costs of the boxes, which would automatically renew into full-price subscriptions unless canceled prior.
The free-trial promotional offer will no longer be advertised within the company's marketing channels and the company has announced that no platforms, affiliates, partners or third parties running the promotional offer will be serviced at the company's website. The company's decision comes as UrthBox redoubles its efforts to provide improved customer service to its primarily U.S. and Canadian customers. At a December event, the company detailed new plans in focusing its efforts in becoming highly customer service-centric oriented.
About UrthBox
Committed to GMO-free, organic and all-natural products only, UrthBox is the best way to discover and purchase healthy consumer food, household and personal care products from conscious and sustainable brands from around the world. UrthBox, a privately held corporation headquartered out of San Francisco, California. For more information, contact Kathy Chang at press@urthbox.com.
Source: UrthBox
---
Categories: Food and Beverage Services, Internet and e-Commerce, Active and Healthy Living
Tags: beverage, consumer, ecommerce, food, gmo free, healthy, market, organic, retailer, subscription, urthbox
---