Upcoming LiveEdu ICO is Going to Disrupt How College Students and Professionals Learn Practical Skills
Press Release
•
updated: Dec 14, 2017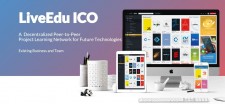 SAN FRANCISCO, December 14, 2017 (Newswire.com) - Have you ever completed an online course to then realize that you still don't really know anything? Most online education platforms focus on theoretical knowledge which is easily forgotten. In fact, there is no project learning platform which teaches college students and professionals who have passed the beginner stage how to build complete products.
The solution is LiveEdu, a decentralized peer-to-peer project learning network for people to improve their job skills in future technologies. Targeting the $46 billion global online education market, LinkedIn's $1.5 billion purchase of Lynda.com offers a glimpse of this market's potential. LiveEdu is building the next-gen Lynda.
LiveEdu is applying what Steemit did for blogging to the online education market. They are building the world's largest project learning network starting with these seven topics: programming, game development, data analytics, design, augmented and virtual reality, artificial intelligence and cryptocurrencies. The aim is to develop a decentralized online learning network that is not reliant on learning theory, but practical career skills by using real complete projects.
Who's in This Decentralized Network?
The main participants in the network are content creators, viewers, moderators, API developers, colleges, schools, libraries, businesses and third-party online education companies. Content creators create educational premium projects and are paid monthly, lifelong royalty fees as viewers learn from their projects. Viewers pay a monthly subscription starting from $9.99 to $19.99, depending on the number of topics. There are also quarterly, bi-annual and annual pricing packages.
While LiveEdu's initial monetization model was B2C and focused on consumers, they are seeking to expand to a more sustainable B2B model. The main sustainable revenue source will come from bulk subscription purchasers, such as public institutions (high schools, libraries, colleges), businesses (B2B) and other established online learning platforms (bootcamps, Udemy, Lynda, Codecademy, Pluralsight). Unlike online learning platforms, the focus of the LiveEdu network is not on beginners, but on teaching those who surpassed that stage how to create real products and build job skills in future technologies. This makes other online learning platforms potential partners and not competitors.

LiveEdu is currently focusing on their Pre-ICO which is scheduled to end on Dec. 31, 2017, with a main crowdsale slated to begin on Jan. 15, 2018. Those wishing to secure up to a 50 percent bonus of EDU tokens should invest in the Pre-ICO stage.
Source: LiveEdu
Related Media
Tags
Additional Links