Ukuza Releases New Demo for Reverse Dungeon Crawler 'Skelattack'
Press Release
-
updated: Oct 19, 2018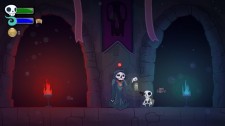 JOBSTOWN, N.J., October 19, 2018 (Newswire.com) - Ukuza, development studio of spooky 2D Action Platformer "Skelattack," is ready to offer its fans and the gaming public a brand new, updated demo.
As the undead skeleton Skully, along with his faithful bat companion Imber, players will be tasked with keeping human heroes out of their dungeon. Stop adventurers from stealing treasure and hurting fellow dungeon denizens, thwart obstacles and mindless creatures, and all the while uncover the reason Skully's underground home has become a hotbed of human activity.
Vast improvements have been made to the game preview, which puts "Skelattack's" titular horrific heroes in the sewers of their dungeon home. Numerous environmental enhancements, including moving platforms and vastly improved parallaxing backgrounds, have given the dungeon more dynamic gameplay and depth; boss fights are now multi-phase and carry considerable consequences if players are defeated; an entirely new area and pivotal character have been added to enhance gameplay and story; and after completing a run through the different sections of the dungeon, those areas will re-populate with enemy NPCs, giving players a chance to play through again as a lore-hunter, speed runner or death count defier, or just for the fun of it.
Ukuza is incredibly excited to show players this overhauled version of the sewers, and deeply look forward to press reviews and feedback. Meanwhile, development continues, and the changes above only reflect a few of the improvements planned and implemented. Expect a lot more news in the weeks to come. While the demo offers only a tantalizing glimpse into the world of Skully and Imber, it should sate player cravings before the official launch of "Skelattack." The brand new demo can be downloaded at Skelattack.com
About Ukuza
Ukuza's mission is to bring the most interesting, unique, and addictive indie games to market. Be sure to check out the Ukuza website and Twitter page for more news and updates around "Skelattack." Players can also download the brand new "Skelattack" demo on the official "Skelattack" website.
Media Contact
Doug Borghese
Director of Content Strategy, Ukuza
​doug@ukuza.com
(732)-597-6588
Source: Ukuza Inc
Share:
---
Categories: Video Games, Video Games
Tags: computer game, esports, gaming, indie gaming, nintendo switch, pc, ps4, retro, skeleton, twitch, video games, xbox
---