Indie Game Publisher Ukuza Signs Macrales Studio's Quirky Platformer 'Epic Loon'
Press Release
-
updated: Oct 25, 2017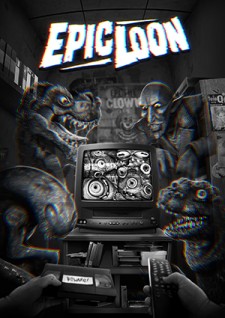 LEWES, Del., October 25, 2017 (Newswire.com) - Ukuza and Macrales Studio, in conjunction with Shibuya Productions (of Shenmue III and Astro Boy fame), have partnered up to publish the quirky 4-player physics platformer, Epic Loon.
At its heart, Epic Loon is a tribute to classic sci-fi and horror movies, with a plot that will take players through several familiar but unique iterations of famous films. They will do so as a cast of aliens hellbent on revenge for being awakened in the seemingly otherworldly VHS-cleaning tape they called home by "Joe," the couch potato who has dared to disturb them from their slumber. Vampires, dinosaurs, aliens and more await players at every turn as they take over Joe's famously large collection of movies. They will be able to play in co-op story mode, as well as "Battle Mode," a race-style version of the game.
"Seeing the level of detail the Macrales Studio team has put into the game is astounding. They have such passion for the material they are creating and incorporate amazing details that everyone should instantly recognize from old movies." - Shane de Lumeau, CEO
"It doesn't just bring me back to the glory days of film; it gives me the same feeling I would get when I watched gritty 90s TV, the kind of stuff they wouldn't dare show on cable anymore outside of FX or something like that, kind of like old Ren and Stimpy, or MTV's Liquid Television. Weird, raunchy, and fun." - Doug Borghese, VP of Marketing
Epic Loon is scheduled for a Q1 2018 release, and it will come to PC, PlayStation 4, and Xbox One.
About Macrales Studio
Macrales Studio is an indie "couch game" developer based out of Roubaix, France. They are responsible for the weird and fun Epic Loon. You can visit Macrales Studio's website at http://www.macrales-studio.com, as well as their Twitter page at https://twitter.com/MacralesStudio.
About Shibuya Productions
Shibuya Productions produce animated films, television shows, video games and documentaries. They are the team behind Shenmue III and the Astro Boy reboot. Visit their website at http://www.shibuya-productions.com/en/index.html and their Twitter page at https://twitter.com/ShibuyaProd.
About Ukuza
Ukuza's mission is to bring the most interesting, unique, and addictive indie games to market. Be sure to check out the Ukuza website (http://www.ukuza.com) and their Twitter page (https://twitter.com/Ukuza_games) for news and updates around Epic Loon.
Media Contact: 
Doug Borghese
Phone: 1.732.597.6588
Email: doug@ukuza.com
Source: Ukuza, Inc
Share:
---
Categories: Movies, Video Games, Arts and Entertainment
Tags: computer game, epic loon, gaming, indie, indie developer, indie game, indie game publisher, indie publisher, macrales, pc gaming, shenmue III, shibuya productions, skelattack, ukuza, video games
---