Ukuza Announces Epic Loon Nintendo Switch Release in New Gameplay Trailer
Press Release
-
updated: Jan 12, 2018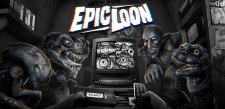 LEWES, Del., January 12, 2018 (Newswire.com) - Ukuza's quirky physics platformer, Epic Loon, has had quite the busy week. Just about timed up perfectly with the new year, the title has received a brand new, highly detailed and supremely weird gameplay trailer. And the trailer has a special twist, no less: an announcement toward the end that Epic Loon will now be released via the Nintendo Switch.
This new video delves deeply into the story, characters, and gameplay that make up the entirety of the game, including heavy footage of the 4-player co-op and "battle" modes. Multiple vignettes of gameplay footage are on display, thoroughly making a meal of the title's multiplayer elements, with the aim of conveying just how centralized the game's focus is on the couch co-op aspect. As for the announcement itself? It can be seen during the closing of the trailer.
Epic Loon seems to be an extra good fit for a console like the Switch, whose own hardware marketing has been touted as a return to form for intimate gaming. The Switch is a console on which the experience is better when shared, and the exact same can be said about this game whose core message is "Play while sharing a beer with friends." The trailer can be found via Epic Loon's official website (www.epicloon.com) and the Ukuza YouTube channel (https://youtu.be/9NGRZO7ulmw).
Along with PC, Xbox One and PS4, our favorite cosmic quartet will now be terrorizing Joe and his film collection on the Nintendo Switch. All ports will be released in Q2 2018. Visit the Epic Loon Steam page (http://store.steampowered.com/app/762190/Epic_Loon) to keep up to date with all of the latest developments and to add Epic Loon to your Steam Wish List.
About Ukuza
Ukuza's mission is to bring the most interesting, unique, and addictive indie games to market. Be sure to check out the Ukuza website (http://www.ukuza.com) and their Twitter page (https://twitter.com/Ukuza_games, https://twitter.com/Epic_Loon) for news and updates around Epic Loon.
About Macrales Studio
Macrales Studio is an indie "couch game" developer based out of Roubaix, France. They are responsible for the weird and fun Epic Loon. You can visit Macrales Studio's website at http://www.macrales-studio.com, as well as their Twitter page at https://twitter.com/MacralesStudio.
About Shibuya Productions
Shibuya Productions produce animated films, television shows, video games and documentaries. They are the team behind Shenmue III and the Astro Boy reboot. Visit their website at http://www.shibuya-productions.com/en/index.html and their Twitter page at https://twitter.com/ShibuyaProd.
Media Contact
Doug Borghese ​
​Director, Social Marketing and Brand Communications, Ukuza
doug@ukuza.com
732-597-6588
Source: Ukuza
Share:
---
Categories: Movies, Video Games, Arts and Entertainment
Tags: computer game, epic loon, gaming, indie, indie developer, indie gaming, movies, multiplayer, retro, video games
---