UBIMET and World Bank Support Farmers in Kosovo
Crop shortfall insurance powered by highly precise weather data
Press Release
-
updated: Jan 31, 2019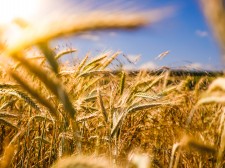 VIENNA, January 31, 2019 (Newswire.com) - The international high-precision weather service UBIMET supplies the World Bank with historical hail reanalysis data for Kosovo to develop agroinsurance which will help farmers receive loans.
UBIMET was selected by the World Bank to conduct this hail reanalysis that will support developing local farming. "As leading private weather service, we were the only ones able to supply these data to the World Bank in the quality required," UBIMET Founder & CEO Michael Fassnauer is delighted about the order.
No crop shortfall insurance without weather data
For this purpose, UBIMET investigated when, where and in what size and intensity hail events occurred in Kosovo between 2007 and 2016. "We precisely looked at the intensity and the diameter of hailstones in the individual Kosovo regions," explains Fassnauer. The data were provided to the World Bank International Finance Corporation (IFC) at the end of 2018. Supported by the governments of Austria and Hungary, IFC drives a project to develop the agroinsurance business in Kosovo.
Hail analysis strengthens agricultural development
Agriculture accounts for 13% of the Balkan republic's GDP. Almost one-third of the population of Kosovo, which gained independence from Serbia in 2008, works in the tertiary sector. "The biggest problem for agriculture consists in getting access to financial funds. As there are hardly any insurance products for agricultural risk, banks do not give out any loans, analyses Leah Soroka, IFC Project Leader at the World Bank.
As farmers have had hardly any opportunity to get access to seeds, fertilizer, and machines, they have not been able to increase their production. The economic development of one of the world's poorest regions has thus been substantially impaired. "With our hail data we have contributed to changing this and offer new opportunities to the people concerned.," says UBIMET Founder & CEO Michael Fassnauer proudly. 
About UBIMET
UBIMET is the leading commercial provider of precise meteorological services and severe weather warnings and the first global digital weather service. The global company is headquartered in Vienna, Austria and has offices in Karlsruhe, Melbourne, Munich, New York, and Zurich employing about 200 staff from 25 nations. UBIMET provides high-quality meteorological data, forecasts, and alerts enabling weather-dependent industries around the globe to increase safety and efficiency.
About ECA-Agri Finance Project
The Project "Development of Agribusiness Financing in Europe and Central Asia" is implemented by IFC, a member of the World Bank Group, in partnership with the governments of Austria and Hungary. The Project works in Ukraine, Azerbaijan, countries of Central Asia and the Western Balkans under the leadership of Project Manager Leah Soroka. The Project goal is to increase access to finance for small and medium agricultural producers by increasing creditor's capacity to lend to agriculture, to mitigate weather and price risks that undermine creditor confidence and demonstrate success with specific instruments and pilots.
For Information

Karin Schwarz

Global B2B Marketing Manager UBIMET

T +43 1 263 11 22 654
M +43 664 832 33 78

E  kschwarz@ubimet.com
Source: UBIMET
Share:
---
Categories: Insurance
Tags: agriculture, agroinsurance, development, economics, farming, hail reanalysis, insurance, Kosovo, microfinance, reanalysis, weather forecasts, World Bank
---
Related Files
Additional Links