U.S. Water Stocks Skyrocket With More Investors Chipping in - AMPAC USA
A recent report by CNBC found out that more socially responsible investors have begun to invest in the water utility industry in the U.S. This comes after the rising alarming news of bad quality and shortage of water in several areas of the States. The report found out that investors were focusing more on the ESG rating of the companies they eventually choose to invest in and this is a positive step towards building a more sustainable and better infrastructure than currently in place.
Press Release
-
updated: Oct 25, 2019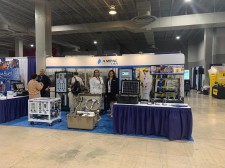 LOS ANGELES, October 25, 2019 (Newswire.com) - In a time like this when water administration, regulation, and supply is a big question mark, good news comes from Wall Street. In a report by CNBC, it found that investors are willing to invest more money in socially responsible companies after a growth in sustainable funds lifted the share prices of utilities in the U.S. Many of these shares are even outperforming markets, however, majority of these seem to come directly from the fear of shortages and more considerate of ESG ratings.
"It was about time," says Sammy Farag, CEO of AMPAC USA. "It was rightly said a while back that the next important thing for this century is going to be water and now everyone has started noticing. Shortage, decrease in quality, and frequency of supply, everything leads to the same problem, a crisis that we were dreading. Thankfully, the business world and several investors have now begun injecting money into what ultimately matters, water for life."
And it seems to be true. In 2019 alone, 3 major utility companies namely American Water Works, Aqua America, and the American States Water Co saw a major boost outranking several other utility stocks. One of the criteria for screening companies for these investors is usually ESG that helps them choose the company they'd want to invest in.
The ESG Rating
Environmental, Social and Governance Criteria (ESG) are a set of standards for a company's internal operations and which usually assist socially driven investors to screen and eventually choose companies to make investments in. The scope of this rating has three major aspects points.
Environmental: This measures how the company operates considering the environment. Whether they have a sustainable approach to the company's growth if they are well under all the environmental regulations and strive for being eco-friendly.
Social: This looks at how the company manages its relationship with several other stakeholders like employees, customers, management, suppliers and communities. It is also a measure of retention among employees, satisfaction among customers, community and ease of business with suppliers.
Governance: This deals with the behind the stage aspects of a business. Company leadership, management vision, executive pay, internal and financial audits, shareholder rights, etc.
This system is becoming an increasingly popular way of choosing companies to invest in. Further, it flags the companies that can be a financial risk due to their non-compliance with environmental regulations or other practices. Most of these are young investors who are considering companies based on their ESG standards. The US SIF Foundation recently published a report that found that these investors went from $8.1 trillion in 2016 to $11.6 trillion in early 2018 for assets that were chosen based on the ESG criteria. However, this seems to be untrue for utility companies.
Angie Storozynski, managing director and senior analyst at Macquarie Capital says "A lot of those ESG funds use water utilities as a proxy of water scarcity. They have been doing particularly well because there is this additional environmental oversight."
Investments In Water Utilities Of The U.S.
Strorozynski points out that several utility companies that have seen a surge in investments are based in the Northeast where there is no shortage of water and additionally, they have very low ESG scores. Although he also maintains that lower ESG does not necessarily mean that the companies aren't working on sustainability, but that they are low on resources to follow the criteria's disclosures and questionnaires. But how do the companies still get the investment the utility industry desperately needs?
The investors, it seems are interested in sustainable development apart from simply ESG ratings. Impax Asset Management, for instance, invested in Aqua America based on its ESG rating but makes such investments towards a sustainable economy. The company works according to a strategy in place since 2009 that invests in securities that it believes provides solutions to the various water challenges in the world.
"Investors cannot completely rely on ESG criteria as seen in the example of the 3 utility companies. Eventually, they are working towards better infrastructure and administration of water, its treatment, and supply which will help in dealing with several problems that have surfaced in the past few years," said Farag. "They may not have the desired ESG rating but they will with more investment towards a more focused vision of solving water problems."
This could also mean that several other companies working for solving other global environmental problems have a chance. Farag thinks so.
"Even the water treatment industry, with its innovation in the process of reverse osmosis or seawater desalination can work towards a sustainable goal, thereby increasing its rating. The investors are more concerned with the current operations that lead to sustainable living with less environmental consequences."
About the Author:
AMPAC USA is a world leader in manufacturing international standard, environmentally friendly water treatment systems based on reverse osmosis. They provide solutions to all kinds of water-related problems.
Source: AMPAC USA
Share:
---
Categories: Production and Manufacturing
Tags: AMPAC USA, Reverse Osmosis, RO Systems, Water Desalination, Water Related problems
---