Turn on Your Mojo With TUFF CHUCK
Press Release
•
updated: Nov 2, 2016
Dallas based senior Chemical Engineer Hans Anklis has recently launched a crowdfunding campaign at Indiegogo in support of his savory energy drink TUFF CHUCK, that promises a healthy energy boost for hours without the harmful downsides of sugar & calories.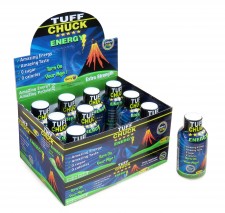 Dallas, Texas, November 2, 2016 (Newswire.com) - The crowdfunding campaign have been successfully funded and raised 111% with still 24 days to go. The founder strongly believes in giving back to the community and has committed to donate 2% of all funds raised to St. Jude Children's research Hospital.
"When you drink regular energy drinks, You will get a good energy kick for a few hours in part due to a heavy sugar presence but you will tend to crash later. It is as if you are taking energy from LATER to substitute for a NOW moment, which is a bad strategy. Please check the calories and sugars on the back of a regular energy drink. They are a recipe for long term Health Disaster. TUFF CHUCK have Zero Calories and Zero Sugar, with TUFF CHUCK ​ You get all the energy benefits without the Downside.
$ 30 for 12 bottles, Zero Calories, Zero Sugar with Amazing Taste, Free US Shipping + Free Gifts!

Hans Anklis, CEO
I know we deserve a lot better, we deserve healthier better products so I decided to create TUFF CHUCK ​ for us. But such a game-changing project demands a robust financial backup and hence the crowdfunding campaign. Your generous support will be much appreciated", stated Hans while announcing the crowdfunding campaign.
TUFF CHUCK comes in a handy lightweight 2 oz. bottle which can easily fit into pockets or purses. Half-a-bottle gulp early morning will be enough to go almost through the day and the rest could be used for later boost up. A great smooth berry taste with an amazing price of $30 for 12 bottles with free shipping for US customers and free gifts.
TUFF CHUCK will provide you with a great energy kick whenever you need it- whether you are working late at night or are just back from a night-long exhausting party. It assures a healthier route to rejuvenate the body, revitalize the breath and refresh your energy. Just shake the bottle, twist the lip, gulp and you are ON. As it takes a team to do great things and your collaboration and support are much needed to bring this futuristic product into reality.
Great crowdfunding video with some highly creative artistic scenery featuring: a fairy, a Fuzzy cat, beautiful girls gone-shopping plus a wild elephant along with cool host of awards are awaiting backers.
Watch TUFF CHUCK crowdfunding video by visiting: https://igg.me/at/LSAu577ghcM
Contact Information:
Source: TUFF CHUCK
Related Media
Tags
Additional Links