1,2,3 Turn on Your Mojo and Get Amazing Energy !
"Tuff Chuck" is the newly launched energy beverage project on Indiegogo that received great response from the backers all over the world.
Press Release
-
updated: Nov 7, 2016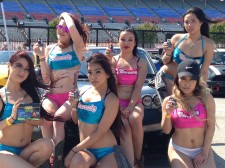 Dallas, USA, November 7, 2016 (Newswire.com) - TUFF CHUCK: Amazing Energy for Amazing People!
The ongoing crowdfunding campaign has been successfully funded at 112 % with still 3 weeks left for it to complete. Backers have pledged for various perks to pre-order the energy beverage at an early bird price. For instance, the $30 perk, offers the backer 12 bottles of Tuff Chuck with free US shipping and free gifts with estimated shipment to be delivered by December 2016.
v is a unique energy beverage which comes in a Volcano eye-catching bottle design with no calories and zero sugar. The flavor is promised to be amazing and the price is kept nominal. The energy drink is developed to be consumed every day, whether in the morning or in the evening after a tiresome day for an extra fast energy boost.
"When you drink regular energy drinks, You will get a good energy kick for a few hours in part due to a heavy sugar presence but you will tend to crash later. It is as if you are taking energy from LATER to substitute for a NOW moment, which is a bad strategy.
Please check the calories and sugars on the back of a regular energy drink. They are a recipe for long term Health Disaster ! TUFF CHUCK have Zero Calories and Zero Sugar. With TUFF CHUCK You get all the energy benefits without the Downside. I know we deserve a lot better, we deserve healthier better products so I decided to create TUFF CHUCK for US " says Hans Anklis, Creator of TUFF CHUCK
Unlike other energy drinks that provide energy boost due to the sugar content present in them, Tuff Chuck gives the energy boost without the harmful effects of sugar and with a smooth berry taste.
Great product video with some highly creative artistic scenery featuring: A fairy, a Fuzzy cat, Beautiful girls gone-shopping plus a wild Elephant.
 TUFF CHUCK Team believes in giving back to the community which is why they are donating 2% of the funds raised to St. Jude Children's Research Hospital.
The lightweight 2 Oz bottle that Tuff Chuck comes in makes it easy to carry in a handbag or purse. The innovative bottle allows the consumer to drink the beverage in parts by keeping it sealed and fresh for hours after opening. The user just needs to shake the bottle, twist the cap to enjoy a refreshing drink that gives an instant energy boost.
. More information about the campaign can be found on Indiegogo shortcut: https://igg.me/at/LSAu577ghcM
Source: Tuff Chuck
Share:
---
Categories: A&E News, Celebrities, Funding, Internet and Streaming Media, Mixed Media, Advertising, Business News, Business to Business, Business to Consumer, Corporate Communications, e-Commerce, Economy, Marketing, Regional Business News, Government News, Politics, Computers and Software, Food and Beverage Manufacturing, Food and Beverage Services, Industry News, Publishing and Printing, Retail, Sports, Fitness, and Recreation, Cloud computing, Mobile and Smart Phones, Social Media, Active and Healthy Living, Beauty and Personal Care, Pets, Recreation and Sports, Urban Living, Women's Issues, Community News, International News, Local News, Metro News, National News, State News, Collegiate Sports, Professional Sports, Xtreme Sports, Air Travel, Hiking and Backpacking, Restaurants, Bars, and Catering, Tourism, Growth and Expansion, Television Programs, Media Industry, Dating, Yoga / Meditation, Conventions, Trade Shows, Meetings and Events, Breaking News, Comedy, Sports Events, Performers, College news, Affluent Living, Visual Arts, Outdoor Grills and Barbeques, Venues, Gossips, Spas, Suburban Living, Awards, Lifestyles, Nutrition, Commercial Art, Live Performance, Arts and Entertainment, Home Care, Personal Growth, Amateur Sports, Media and News, Medicinal Foods, Specialty Camps (arts, sports, crafts, etc,), Public Relations, Culture, Shopping, Financial News, Healthcare and Medical News, Sports News, Vacations and Travel, News, A&E News
Tags: beverages, cnn, crowdfunding, election, energy drink, fox, hillary clinton, indiegogo, kickstarter, monster, politics, yahoo
---