TrustedIn Trading Revealed Its Social Media Platform
TrustedIn Trading introduces the world's first social media platform with 100% "know your customer" or KYC audited profiles. TrustedIn Trading is also the world's first social media platform to provide multi jurisdictional compliance tools for regulated products to help them maintain their financial promotions in a compliant manner.
Press Release
-
updated: Apr 10, 2019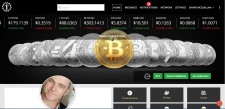 LAS VEGAS, April 10, 2019 (Newswire.com) - TrustedIn Trading revealed itself as the world's first social media platform to offer tools which enable compliance for companies and projects on a multi-jurisdictional basis.
The TrustedIn Trading founder, Shane Mcquillan has plans to rival top social media and business networks. Before the public announcement of the launch date, there were already 20,000 followers on the TrustedIn Trading Twitter account, nearly 2,000 user signups including 50 companies and 10 projects, all of which learned of the platform without any marketing efforts. TrustedIn Trading plans to take the lead by combining many of the most popular features from common social media portals and adding innovations for professionals who work in traditional finance, cryptocurrency, and many other modern fields.
For modern internet users, there is a multitude of problems that can come from transacting online, especially in uncharted territories like cryptocurrency and blockchain technology. The creators of TrustedIn Trading encourage new and existing companies to be transparent in order to foster trust.
To combat the plague of scams and fake profiles that have become commonplace on social media, each member and each entity that joins TrustedIn Trading will be required to pass the verification process which grows more rigorous as user privileges increase.
This verification process is meant to eliminate impostor accounts and to prevent false data from accumulating. Malicious actors will have a much smaller chance of negatively impacting the crowd when they simply cannot gain access to the platform.
Fake profiles are a precursor to fraudulent activity within social media, so by eliminating fake profiles, the ability of potential fraudsters is greatly reduced.
When asked what motivated the creation of the TrustedInTrading Platform, Founder Shane McQuillan emphasized the importance of the Due Diligence process, pointing out the need for increased attention to regulatory concerns and compliance-friendly tools.
"We wanted to create an ecosystem that is driven by trust and transparency. Transparency is a gateway to trust, and trust is the biggest barrier to investment in the world. We are enabling transparency, which brings trust, which means more accessible financial opportunities and better business all around.  
We want to continue to develop tools for people to give them the ability to work through and use our platform in ways that encourage compliance, especially those companies who want to create digital offerings. We think this is pretty important in this day and age." - Shane McQuillan, Founder TrustedIn Trading Platform
The founder continued with some insight about the people who will benefit by using the platform.
"We noticed that startups within the ecosystem waste huge amounts of time, money and effort in the process of facilitating the required services for an efficient and pragmatic token float. We have partnered with some of the biggest crypto exchanges in the ecosystem as well as top-level service providers to facilitate an easier on-ramping process for startups within the blockchain sector. TrustedIn trading does not charge to assist projects in this aspect as it helps build out the ecosystem."
Media Contact: Shane McQuillan
Contact Email:  founder@trustedintrading.com
Sign up: TrustedIn Trading account
Source: TrustedIn Trading
Share:
---
Categories: Social Media
Tags: compliance, cryptocurrency, finance, know your customer, kyc, Social media
---