TrustedIn Trading Board of Advisors Adds Chair for BlockTower Capital Founder Ari Paul
Press Release
•
updated: May 1, 2019
The new social media network focusing on financial and cryptocurrency networking, TrustedIn Trading, welcomes Ari Paul to its Board of Advisors.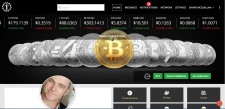 LAS VEGAS, April 30, 2019 (Newswire.com) - Ari Paul, a prominent investor in the cryptocurrency community has been announced as a member of TrustedIn Trading's Board of Advisors. Ari is the co-founder of leading cryptocurrency investment firm BlockTower Capital, co-author of the CBOE Bitcoin futures whitepaper, and has gained a considerable following on social media channels, such as Twitter.
When asked about his decision to join the advisory board of TrustedIn Trading, Ari explained:
"I was introduced to TrustedIn Trading two years ago, and it was wonderful to see the team come to market with a product that is clearly needed. TrustedIn Trading is an intuitive solution for projects navigating the complexities of global regulation, and I think they may also become the leading financial-social network."
TrustedIn Trading brings transparency to the crypto ecosystem through its 100% validated social platform. Crypto projects can now comply with regulations across global jurisdictions once they have passed rigorous due diligence. TrustedIn Trading helps projects grow their communities, both pre- and post-funding, in a more efficient way, with reduced compliance overhead costs.
"In the past 48 months, projects have been running into difficulties with regulators across the globe while raising funds via their digital offerings. Blatant mass marketing to retail investors has drawn the ire of multiple regulatory bodies, and this is just one aspect in which TrustedIn Trading will look to facilitate a project which passes our due diligence," stated Shane McQuillan founder and CEO of TrustedIn Trading.
TrustedIn Trading offers an assortment of tools for finance and other industry professionals, from cryptocurrency charts and statistics to company verification initiatives to group chats. Each user must be verified to be who they claim to be, with the criteria growing as the members increase their level of use and privilege within the system. The networking marvel is now accepting users from all over the world, and they provide their tools and platform to the public for free.
Media Contact: Shane McQuillan
Sign up: TrustedIn Trading account
Source: TrustedIn Trading
Related Media