Trust Your Animal Instincts Book Honored With 2020 Nautilus Award for Igniting Social Positivity
Press Release
•
updated: Jul 8, 2021
Tabitha A. Scott's best-selling book shares personal story with original insights for spiritual growth, conscious living, and positive social change.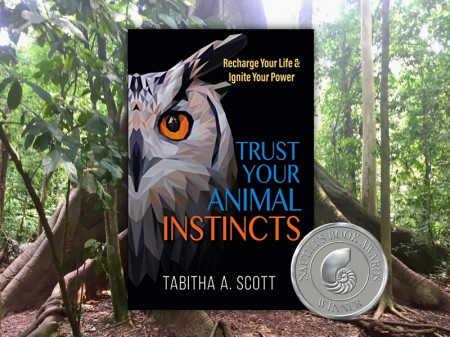 NASHVILLE, Tenn., May 11, 2021 (Newswire.com) - Tabitha A. Scott will be joining past Nautilus Book Award winners Deepak Chopra, Desmond Tutu, Lynne McTaggart, Eckhart Tolle, and His Holiness the Dalai Lama for her new book. The Nautilus Awards is an honor given to distinguished literary contributions that incite spiritual growth, conscious living, and positive social change.
The best-selling book Trust Your Animal Instincts: Recharge Your Life & Ignite Your Power resonates with readers who are looking for a way to reconnect and redefine success. According to William S. Owen, former Tennessee Senator, "Tabitha's engaging journey of personal growth, spiritual acknowledgment, and physical distance resonate with 21st century challenges. Her book has great value for everyone who is open to embracing the liberation of their own innate energy."
Developed to recognize books for their contributions to sustainable practices, integration of body, mind, & spirit, and that celebrate spiritual awakening, the Nautilus Awards highlights "Better Books for a Better World". Scott's book was written to inspire social positivity, healing, and understanding. It relates to those trying to please everyone, including themselves, while keeping pace with life's unexpected changes, hardships, and "shoulds".
Trust Your Animal Instincts shares how to tap into your own intuition for personal guidance and enlightenment. Using both the science and spirituality of energy itself, Scott notes that anyone can reconnect to childlike joy. Her story begins on a small farm in Elizabethtown, Kentucky, grows into the challenges of being a progressive sustainability executive and conservative Southern mom, then peaks alongside the wild animals in a remote Costa Rican jungle.
It doesn't take a trip to the jungle to reconnect. This "potentially life-changing, life-enhancing, life-celebrating instructional guide and manual" (Midwest Book Review) shares a spiritual journey that demonstrates we all have the potential to reconnect, to love, and to recharge with the endless source of renewable power.
Tabitha A. Scott is an international author, speaker, and advisor on business transformation through powering personal and leadership potential. Formerly CEO of Cole Scott Group and Military Assistance Company, and SVP of Innovation & Sustainability at global companies Balfour Beatty Investments and Lend Lease Americas, she has deep experience with change management, leadership development, and technology deployment. https://www.Powering-Potential.com
Source: Marianne Pestana Public Relations