Moments with Marianne Radio Show Has a New Time on KMET 1490 AM / 98.1 FM
Press Release
•
updated: May 17, 2023
Now airing every Tuesday at 3:00pm PST, 6:00pm EST, and Friday at 10:00am PST, 1:00pm EST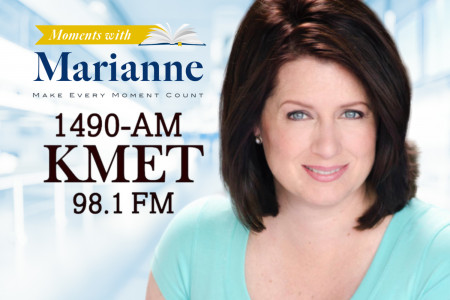 ATLANTA, May 17, 2023 (Newswire.com) - The Moments with Marianne radio show, with host Marianne Pestana, is adding a new time to its current schedule. Already airing on Fridays at 10:00am PST, 1:00pm EST, the show has added Tuesdays at 3:00pm PST, 6:00pm EST on KMET 1490 AM / 98.1 FM, an ABC News Radio affiliate station.
According to Nielsen Audio, KMET 1490 AM / 98.1 FM is part of the 25th largest U.S. radio market. Located near Palm Springs in Southern California, the terrestrial broadcast area covers the communities of Riverside, San Bernardino, and Temecula. An estimated 3.5 million people reside in the region, according to the U.S. Census Bureau. Growth projections through 2035 are estimated to be more than 1.2 million housing units, a rate of 51% of growth.
As a former producer of an Emmy-nominated show on PBS, Marianne Pestana brings top celebrities, authors, luminaries, personal stories and nonprofits to light in her award-winning show Moments with Marianne.
After airing on KMET 1490 AM / 98.1 FM, the Moments with Marianne radio show is available on most online platforms, such as Audible, Apple Podcasts, Google Play, iTunes, Pandora, Spotify, Amazon Music, JoSaavn, Ghana Radio, iHeartRadio, Podbean, Stitcher, TuneIn, and many more. Streaming to an international audience of over 7 million listeners in over 70 counties, Moments with Marianne has over 900 episodes to choose from.
Visit www.MariannePestana.com for more show information. The show can also be heard on KMET Radio's Internet stream by logging on to their website at www.kmet1490am.com. Contact the station at: info@kmet1490am.com for more information on programming.
Mitch McClellan, KMET GM
909-319-1177
Source: KMET 1490 AM / FM 98.1