Trio of Hand-Glazed Pots Are Flagship of Gaia's New Pottery Line
While every new piece of pottery from artisan firm Gaia is stunning in its own right, the company's new Batch #204 Hand Glazed Pots could very well be the best representative of the company's commitment to limited-run, beautiful pottery pieces.
Press Release
-
Feb 2, 2016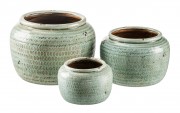 United States, February 2, 2016 (Newswire.com) - Gaia announced this week the debut of the Batch #204 piece this week, making the Hand Glazed Pots the capstone to a limited run of six different pottery products. Comprised of a small, medium and large pot, the trio boasts the rustic craftsmanship that has made Gaia a favorite artisan pottery producer.
The trio's appearance exudes Gaia's trademark knack for creating pieces that look as though they were pulled from centuries past and placed in the present. In this particular set, the three pots are saturated with a weathered turquoise-green color. Rows of hand-impressed ovals encircle the main body of each pot, which rises up and gives way to a simple, rounded rim.
Pictures released by the company this week allowed a view inside the pot, where designers wisely chose to leave the interior unfinished. The result is the prominence of the rich, reddish-brown clay used to create these timeless pieces.
Close ups of the exterior design reveal micro-factures which spread across the surface of the pot in a fascinating web, adding a sense of history to each piece.
The pots act as points of imagination for those who view them. Their rich, worn countenance evokes imagined tales of expeditions through thick jungles in Malaysia, or quiet moments pondering the piece of a Japanese hillside.
According to the product description that accompanies the pots, each piece was fired in a kiln at more than 2,000 degrees Fahrenheit to ensure durability.
The trio of turquoise-green pots is one of six pottery pieces or sets Gaia has released over the past few weeks. Also featured in the launch was the Batch #259 Hand Glazed set, a duo of pottery pieces well suited for decoration or for flowers.
The company has featured turquoise or green hues in their most recent products. Their Batch #218 Tall Hand Glazed Vase and Batch #332 Hand Glazed Vase are a rustic mix of pale turquoise paint and raw, red-brown clay.
Not every piece in the line is of a bright hue, though. The company's craftsmen have also released a series of three concrete-cast pots, their Batch #63 Hand Painted Pots. Though made from a different material, they still express the unique idiosyncrasies that make Gaia's products stand out.
The company's Batch #204 Hand Glazed Pots are available for purchase for $332 on the Gaia website, http://www.gaiacollection.com. Other products in the pottery line range in price from $187 to $274.
Gaia's website also features a page which explains the company's creative process. To learn more about what type of artistry and philosophy go into each piece Gaia makes, click here to go to the Our Creative Process page.
Contact
Website: http://www.gaiacollection.com
Share:
---
Categories: Arts and Entertainment, Hobbies and Crafts, Home
---