Treehut Plants Seeds for Design and Manufacturing Expansion in SOMA With $4.4M in Financing From Capital Access Group and U.S. Small Business Administration 504 Loan Program
Press Release
-
updated: Feb 6, 2018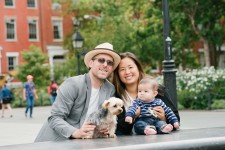 SAN FRANCISCO, February 6, 2018 (Newswire.com) - Capital Access Group (www.capitalaccess.com), a commercial real estate lender specializing in U.S. Small Business Administration 504 loans for growing businesses, recently helped Julia and Johannon Olson, co-owners of Obey Nature, LLC, (aka Treehut) to secure $4,430,000 in total project financing through the SBA 504 commercial real estate loan program. The funds were used to purchase a 7,333 square foot industrial-warehouse building located at 34 Harriet Street, San Francisco, CA, in the center of the city's thriving South of Market neighborhood.
Over the past four years, Treehut, a design and manufacturing company that handcrafts watches and eyeglasses made of real wood, has experienced exponential growth. Pioneers of the maker movement, the husband-and-wife team started operating Treehut out of their basement and then moved the business twice to accommodate its growth, but leasing space was never a long-term solution for the business.
"We are a manufacturing business, which requires us to customize the space to fit our needs," said Julia Olson, co-founder of Treehut. "Not a lot of landlords are fans of renting space to us for that reason, so we decided it was time to purchase property. Now we have the flexibility to make the space the best use for our manufacturing facility,"
Julia and Joh were attracted by the SBA 504 loan program's low down payment, but the low-interest rate and repayment plan really won them over.
"We shopped around, and this loan offered the best interest rate overall," said Julia. "And the repayment plan was really clear for the SBA loan compared to other commercial loans. What if one day we really need to sell the building and move on to a new building?  This will give us more flexibility to move on into a bigger building eventually."
Julia and Joh were also impressed by Capital Access Group's advocacy on their behalf.
"I think the feeling that came up was that of having an advocate," said Johannon Olson, co-founder, Treehut.  "It's relatively complex and they were working with us and for us, trying to let us manage our business and shield us from some of running around whenever they could."
"We were so pleased to help Julia and Joh find a new home for their business," said Claudia Cohen, Senior Vice President, Capital Access Group. "Treehut currently employs 20 people, and at their current rate of growth, they will continue to create good, manufacturing jobs, which is why the SBA 504 program exists — to create jobs and strengthen the community."
About Capital Access Group: Capital Access Group is a leading statewide Certified Development Company based in San Francisco, authorized by the U.S. Small Business Administration to provide long-term, fixed-rate financing through the SBA 504 loan program, which offers 90% financing to business owners for the purchase, renovation, or construction of commercial real estate for their growing businesses. Founded in 1981, Capital Access Group has helped thousands of entrepreneurs grow their businesses and realize their dreams of owning their buildings. Currently, the SBA 504 interest rate is 4.64%, fully amortized and fixed for 20 years. For more information, please visit www.capitalaccess.com.
Source: Capital Access Group
Share:
---
Categories: Small Business, Fashion and Apparel, Manufacturing, Governmental Banking
Tags: Best 504 Lender, Best California CDC. small business loan, capital access group, fashion, obey nature, SBA 504 loan, SBA loan, treehut
---