Shamrock Moving & Storage, a Second-Generation, Family-Owned Business, Buys 43K-Square-Foot Warehouse in South San Francisco With Help From Capital Access Group and the SBA 504 Loan Program
Press Release
•
updated: Dec 3, 2019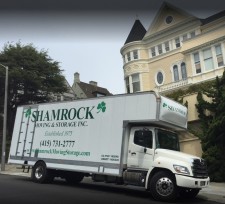 SAN FRANCISCO, December 3, 2019 (Newswire.com) - ​​​Capital Access Group, a commercial real estate lender specializing in SBA 504 loans for growing businesses, recently helped Shamrock Moving & Storage access $10.35 million in total project financing through the SBA 504 loan program to purchase a 43K-square-foot office and warehouse facility to expand their business. The facility, located at 255 S. Maple Avenue, South San Francisco, will allow the business to consolidate its operations, which are currently spread across two facilities in separate parts of the Bay Area.
Founded in San Francisco in 1975 by Bob and Barbara Fallon, Shamrock's growth began in earnest when the company purchased its first commercial property. Today, the business employs all four of the couple's children: Marion Fallon Deasy, Helen Fallon Ballard, Daniel Fallon, and Bobby Fallon.
"My three siblings and I are involved in every aspect of the business, so when we say, 'family business,' we mean it," said Bobby Fallon, General Manager, Shamrock Storage & Moving.
"Shamrock started with my dad, one truck, and my mom in the office," said Fallon. "Basically, it stayed that way until we made our first building purchase in 1995 with the help of the SBA. Once we did that, we had a lot more confidence in expanding the business knowing that our rent couldn't be raised. It just gave a level of stability that really took the company to the next level."
Although the company has grown from a one-truck operation to an enterprise that conducts roughly 3,000 moves each year, it still strives to stay small and nimble enough to provide a personal touch, according to Fallon.
"With us, you are getting the personal touch of a small company with the resources to compete with a large company," said Fallon. "We have great people, and that's a huge part of our success."
Moving companies, like many small businesses, operate within tight margins, so it wasn't possible for Shamrock to come up with the 20-to-30% down payment typically required by commercial lenders. The SBA 504 program provides access to low down payment, fixed-rate, long-term financing so small businesses can preserve cash to grow their businesses.
"The SBA loan makes buying a building feasible," said Fallon. "It makes it possible for a regular business like ours to have a chance to come up with the capital for the down payment. If we had to put down 20-to-30 percent, it wouldn't be happening. And since our rents continued to rise in our leased facility, buying the building will control our costs going forward."
"We were thrilled to help Shamrock secure a new building for their business," said Claudia Cohen, Senior Vice President, Capital Access Group. "Utilizing the SBA 504 program was a fantastic long-term business decision for the company."
"This is the second loan I've done with Claudia, and it's been great," said Fallon. "To someone like me who doesn't do this every day, you need someone who is knowledgeable and responsive and can walk you through the process."
About Capital Access Group: Capital Access Group is a leading statewide Certified Development Company based in San Francisco, authorized by the U.S. Small Business Administration to provide long-term, fixed-rate financing through the SBA 504 loan program, which offers 90% financing to business owners for the purchase, renovation, or construction of commercial real estate for their growing businesses. Currently, the SBA 504 interest rate is 3.68%, fully amortized and fixed for 20 years. Visit www.capitalaccess.com.
Source: Capital Access Group