After Lengthy Search, Artistic Stone Kitchen & Bath Buys Building to Expand Operations With $4.7M SBA 504 Loan From Capital Access Group
Press Release
•
updated: Sep 30, 2019
'This really is our dream place.'- Yang Jiang, President, Artistic Stone Kitchen & Bath, Inc.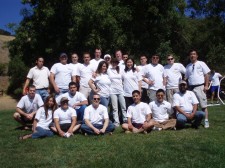 SAN FRANCISCO, September 30, 2019 (Newswire.com) - ​​​​​Capital Access Group (www.capitalaccess.com), a commercial real estate lender specializing in U.S. Small Business Administration 504 loans for growing businesses, recently helped Yang and Junhong Jiang, the owners of Artistic Stone Kitchen & Bath, Inc. secure $4.7 million through the SBA 504 commercial loan program to purchase a 13,200-square-foot, industrial office-warehouse building located at 1800 Williams Street, San Leandro, California. The husband-and-wife team searched for nearly 10 years to find their "dream place," which includes retail and industrial space and a large yard for future growth opportunities.
Yang and Junhong never planned to go into business for themselves, but when Yang lost his job at Charles Schwab in 2002 due to the dot-com crash, he and his wife decided to start their own business. Junhong had prior experience in the stone importing industry, so they decided to launch a granite and marble importing business, offering quality countertops at low prices. In just a few years, Artistic Stone was ranked as one of the fastest-growing private companies in the U.S. by Inc. Magazine. When the Great Recession arrived in 2008, however, Yang and Junhong were forced to shift strategies once again.
"We lost many of our customers due to the Lehman Brothers collapse so to survive, we refined our core values and corporate culture," said Yang Jiang, President, Artistic Stone Kitchen & Bath, Inc. "Instead of competing on cost, we wanted to give customers the best customer experience."
Over the years, the Jiangs rebuilt the business and reemerged as a provider of high-quality products and workmanship along with a full-service solution that includes custom fabrication and installation. It's a place where "the customer can get everything done in terms of their stonework," according to Jiang.
As their business grew, the Jiangs determined that they wanted to buy a building for their business. Their exploration of property ownership led them to Claudia Cohen, Senior Vice President, Capital Access Group, who prequalified them for an SBA 504 loan. It would take the Jiangs nearly 10 years to find the right space, but once they did, the Jiangs knew just who to call for a financing solution.
"By my experience, Capital Access is the one to go to, really," said Jiang. "Claudia and Capital Access were very prompt answering questions and very helpful in every single step of the process. I am really appreciative and impressed."
The Jiangs were also impressed with the 504 loan program's low down payment.
"The ten percent down payment made all the difference. That's the greatness of the SBA," said Jiang. "I wouldn't be able to afford the 20 percent down payment required by most commercial banks, period."
"I was really excited to work with Yang and Junhong on this purchase," said Claudia Cohen, Senior Vice President, Capital Access Group. "We had been working with them for quite some time before the perfect building came along, so all of their preparation in advance of finding the building in the Bay Area's very competitive real estate market helped them to act fast to secure the property. We pride ourselves on our fast, responsive service to help businesses like Artistic Stone realize their dream, and I couldn't be happier for them."
About Capital Access Group: Capital Access Group is a leading statewide Certified Development Company based in San Francisco, authorized by the U.S. Small Business Administration to provide long-term, fixed-rate financing through the SBA 504 loan program, which offers 90% financing to business owners for the purchase, renovation, or construction of commercial real estate for their growing businesses. Founded in 1981, Capital Access Group has helped thousands of entrepreneurs grow their businesses and realize their dreams of owning their own buildings. Currently, the SBA 504 interest rate is 3.35%, fully amortized and fixed for 20 years. For more information, please visit www.capitalaccess.com.
Source: Capital Access Group
Related Media