Tree Story's New Book 'The Sovereign Rose of Morbid Lore' Tells the Story of a Flower's Metamorphosis Into a Life Form Who Experiences Life's Capricious Poignancies
Recent release "The Sovereign Rose of Morbid Lore" from Covenant Books author Tree Story is a thought-provoking narrative about a rose that achieves sentience and journeys life, understanding its principles and spiritual connotation.
Press Release
-
updated: May 27, 2020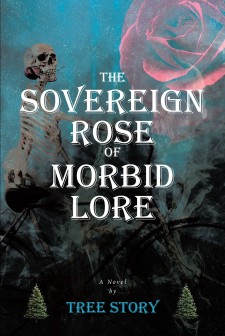 NEW YORK, May 27, 2020 (Newswire.com) - Tree Story, a prolific author who enjoys writing fiction and reading stories with strong spiritual and moral overtones as well as morbidity, has completed his new book "The Sovereign Rose of Morbid Lore": an enthralling novel about a rose that transforms into a new life form that experiences moments of spiritual fortitude and partakes in the quaintness of humanity.
Tree Story writes, "'The Sovereign Rose of Morbid Lore' is the fictional account of a spiritual journey, characterized by a flower. In this case, a morbid rose that experiences metamorphosis and is transformed into an alternate life form. More specifically, an introspective bicyclist that reflects and assesses the meaning of its own life. From the beginning of life to the end of validity; depicting itself as a worldly, ethereal traveler of the earth as well as the universe, trying to differentiate between reality and otherworldly phenomena.
"Chasing its dreams 'from here to the grassy hills of eternity.' Overcoming the obstacles of life, as well as the atrocities of humanity, and the trials and tribulations of all people that have ever lived.
"Through the use of symbolism, all names, characters, and narratives represent the primary character's personal feelings and or emotions; spiritual, as well as demoniacal. The quest, the journey, the odyssey is to experience the fibers and the fabrics of sovereignty, despite its inherent morbidity. To be loved, and to be forgiven for all of its sins and all of its imperfections by the omniscient, omnipresent Lord, so that it can be accepted into the flowerbeds of heaven, and spend eternity with all the insects of the world and the buzzing of the bees."
Published by Covenant Books of Murrells Inlet, South Carolina, Tree Story's new book exudes with mystifying circumstances that reveal the profound existence of a flower that becomes a sentient being that becomes involved with life's deeper reality.
This book is a compelling tome that tackles faith and purpose in discerning the true meaning of life and living.
Readers can purchase "The Sovereign Rose of Morbid Lore" at bookstores everywhere or online at the Apple iTunes Store, Amazon, or Barnes & Noble.
Covenant Books is an international Christian-owned and operated publishing house based in Murrells Inlet, South Carolina. Covenant Books specializes in all genres of work which appeal to the Christian market. For additional information or media inquiries, contact Covenant Books at 843-507-8373.
Source: Covenant Books
Share:
---
Categories: Publishing and Printing
Tags: "The Sovereign Rose of Morbid Lore", Covenant Books, Tree Story
---