Transition Trucking Driving for Excellence Award Nomination Opens June 10
Press Release
•
Jun 9, 2022
Transition Trucking Award nomination packages will be available on June 10 at transitiontrucking.org/nominate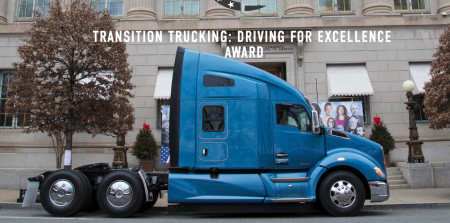 WASHINGTON, June 9, 2022 (Newswire.com) - The nomination period for the 2022 Transition Trucking Driving for Excellence Award opens on Friday, June 10. Considered one of the most prestigious awards in transportation, the U.S Chamber of Commerce Foundation's Hiring Our Heroes Program (HOH), Kenworth, and FASTPORT will award a fully loaded 2022 T680 Next Generation truck to a deserving veteran who has entered the trucking industry during the previous year.
"Last year, nearly 200,000 veterans transitioned out of the military and into the private sector. FASTPORT's mission is to let those veterans know about the tremendous opportunities available in the trucking industry," said Brad Bentley, FASTPORT president.
"Kenworth is honored to be a part of this amazing award. We urge large and small fleets in America to nominate their best drivers who have served our country and encourage those transitioning from military service to consider the trucking industry as their future career," said Genevieve Bekkerus, Kenworth director of marketing. "We look forward to presenting the Kenworth 2022 T680 Next Gen keys to a well-deserving veteran as America's top rookie military veteran in our industry."
"Hiring Our Heroes is proud to partner with FASTPORT and Kenworth, as we work to support veterans in trucking and address the nationwide shortage of truck drivers by connecting our veterans and family members with high-demand, high-paying transportation careers," said Eric Eversole, U.S. Chamber of Commerce vice president and Hiring Our Heroes president.
The nomination period runs from June 10 to July 31, 2022. Full criteria and online nomination package are available at https://www.transitiontrucking.org/nominate. The winner will be determined by an expert panel of judges and a public vote. To qualify, a driver must have graduated from a CVTA, NAPFTDS or PTDI certified school with a valid CDL and was first hired in a trucking position between Jan. 1, 2021, and July 31, 2022.
"Thanks to the commitment from Kenworth and Hiring Our Heroes, for the seventh consecutive year, we will be able to honor a veteran, guard member or reservist who has made the successful transition in the trucking industry following military service. The winner's life will change forever with their new Kenworth T680, and the two runners-up will each receive $10,000 as well," added Brad Bentley, FASTPORT President.
About FASTPORT
FASTPORT, Inc. is a software development company that builds partnerships and digital products to accelerate businesses and launch careers. Our people and technology interact with the most productive veteran hiring initiatives in the United States and have received multiple contracts from the U.S. Air Force Small Business Innovative Research program. FASTPORT is also the U.S. Department of Labor's Industry Intermediary and a part of the Centers of Excellence to support apprenticeship development and sustainability. For more information, visit www.fastport.com or www.nationalapprenticeship.org.
To learn more about the 2022 Transition Trucking Driving for Excellence Award, visit https://www.transitiontrucking.org/.
Source: FASTPORT