FASTPORT Joins Radio Nemo to Honor Memorial Day With an Entire Weekend of Programming
Press Release
•
May 22, 2023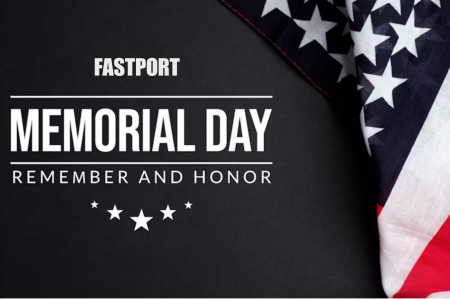 LOWELL, Mass., May 22, 2023 (Newswire.com) - Radio Nemo of North America will feature an entire weekend of programming dedicated to observing Memorial Day. Both The Dave Nemo Show and Dave Nemo Weekends on SiriusXM 146 Road Dog Trucking have assembled a lineup to honor those who made the ultimate sacrifice for our country. A diverse lineup that includes veterans, executives, authors, and members of the transportation industry will discuss the meaning of the holiday, the events that surround it, and the opportunities it presents. These shows will be produced in conjunction with FASTPORT whose Transition Trucking: Driving for Excellence award nomination process is underway.
It all begins on Friday's The Dave Nemo Show as Craig Nelson highlights his new history V is for Victory: Franklin Roosevelt's American Revolution and the Triumph of World War II. The celebrated author will discuss with host Jimmy Mac the story of FDR's "great debate" with aviator Charles Lindbergh over America's isolation on the eve of Pearl Harbor. That timely tale from America's past will push the programming into Saturday's Dave Nemo Weekends, when co-hosts Jimmy Mac and Lindsay Lawler welcome several guests who have made a career dedicated to honoring the dead by serving the living.
Saturday's broadcast starts with Wreaths Across America's Karen Worcester talking with Jimmy and Lindsay about their annual event at Arlington National Cemetery and continued commitment to Gold Star Families. Retired Colonel Adam Rocke then stops by to tell listeners about not only his career of creating civilian networks for service members but also his own personal memories of his tour of duty. Concluding the show is Army veteran Sarah Lee, whose own personal struggles resulted in the creation of Waypoint Vets, an organization dedicated to facilitating adventure to help veterans in their personal recoveries.
Sunday, May 28th is a mix of the holiday's meaning in the past, present, and future. Author Justin Martin will examine his works A Fierce Glory: Antietam--The Desperate Battle that Saved Lincoln and Doomed Slavery and Rebel Souls: Walt Whitman and America's First Bohemians. These books are examples of how we use history to honor the memory of the dead. Sierra Delta's BJ Ganem will pop in to tell the tale of his non-profit and his participation as captain of The Wounded Warrior Football Team. Sunday will conclude with Brad Bentley explaining FASTPORT's various efforts to help veterans.
Finally, Memorial Day itself will see Jimmy Mac join Dave Nemo on The Dave Nemo Show as they welcome Commander Daniel O'Hara, who touches down to discuss his career as a pilot with TOP GUN instruction and over 5,100 flight hours with 700 carrier arrested landings. A special edition of The Recruiters Round Table follows as KL Breeden and Sons discuss the company's programs for veterans. After that, the Purple Heart Foundation's Jim Hatch with call attention to their mission and how to honor the sacrifices of others. Memorial Day will conclude with OpLign's Beau Higgins, a Marine Corps veteran, sharing a tale of courage, sacrifice, and loss.
Host of The Dave Nemo Show and cohost of Dave Nemo Weekends Jimmy Mac says, "While the weekend's focus is, of course, on those no longer with us, we want to remind our trucking audience, many of whom are veterans, that the best way we can honor the dead is with a continued commitment to those who remain."
About FASTPORT
FASTPORT, Inc. is a software development company that builds partnerships and digital products to accelerate businesses and launch careers. Our people and technology interact with the most productive veteran hiring initiatives in the United States and have received multiple contracts from the US Air Force Small Business Innovative Research program. FASTPORT is also the U.S. Department of Labor's Industry Intermediary and a part of the Centers of Excellence to support apprenticeship development and sustainability. For more information, visit www.fastport.com or www.nationalapprenticeship.org.
Source: FASTPORT