Top Mindfulness Meditation App Welzen Partners with Buddy Project
Leading mindfulness meditation and wellness company Welzen has entered into a partnership with Buddy Project and the tie-up will have Welzen offering free Forever Mindfulness Meditation App subscriptions to the non-profit organization.
Press Release
-
updated: Jan 18, 2017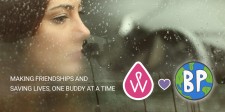 Atlanta, GA, January 18, 2017 (Newswire.com) - Top Mindfulness meditation and wellness company Welzen has entered into a partnership with Buddy Project this New Year. Bustling with as many as 158,000 users since 2013 April, Buddy Project is a non-profit movement with the mission to prevent self-harm and suicide. The partnership will have Welzen offering free Forever Mindfulness Meditation App subscriptions to the Buddy Project organization.
Claiming an alarming number of 121 lives a day, suicide is the 2nd leading cause of death among children and young adults aged between 10-24. Stress and anxiety are the prime factors abetting suicide at large yet it's hard to avoid them in the contemporary jam-packed life. However, Mindfulness meditation has shown to calm the mind that in turn reduces the stress issues that would eventually eliminate the risks of committing suicide.
"It's a great moment for us to announce that we have recently entered into a partnership with Welzen. Mindfulness meditation is a great coping aide for many down with stress and various mental illnesses. From stress to anxiety to coping with addictions to social stress to mental disorders, Mindfulness meditation is proven to help with all. It also helps to prevent risks of suicide since leads to a very positive mind-set and a happier life. We are always looking forward to offer more resources that people can use as coping mechanisms and Welzen subscriptions will be given to the Buddy Project participants as an additional resource for coping," stated Gabby Frost, the CEO and Founder of Buddy Project.
"With suicides reaching at a rampant stage today, it's very important to spread this idea with a lot of people- you never know who it could help!"
Buddy Project is deeply committed to saving lives by preventing the monster of suicide and self-harm through pairing people with caring buddies. The organization primarily focuses on teens, kids and young adults all over the world by extending companionship, positivity​, resources & education.
"By extending our caring companionship and resources at an early age, we are hopeful to promote compassion, empathy & mental health awareness. Our mission is to lessen the unwanted stigma of bullying, mental illness as well as negativity on the social media. We are there for you when you are looking for a friend and our buddies are open to everybody, irrespective of one's gender identity, mental health, race, religion, socioeconomic status and sexual orientation. With us, you don't have to be alone ever."
A name of high repute across Mindfulness meditation & wellness sector, Welzen app boasts a whooping 40K+ users now within just 6 months of its launch.
"We are extremely elated to announce we have recently tied up with Buddy Project. The organization is doing a great job in preventing suicides and we believe our stress and anxiety reducing Mindfulness meditation sessions would be of positive help here," noted Welzen founders Beatriz Ospina.
The Guided Mindfulness meditation application runs on both iOS and Android and speaks of several practical categories:
5 Days of Welzen that comprises the introductory meditation course
Office Hours which helps to stay mindful throughout the workday
Manage Stress
Reduce Anxiety
Increase Focus
Better Sleep
Improve Relationships
Enhance Creativity
Kind's Meditations
Female Guidance
Welzen is soon to launch another category "Happiness". To know more about Welzen, visit www.welzen.org.
Source: Welzen
Share:
---
Categories: Non Profit, Mobile and Smart Phones, Lifestyles, Yoga / Meditation, Online Programs
Tags: buddy project, meditation, mental health, mindfulness, mobile app, partnership
---