Popular Mindfulness Meditation App Welzen Introduces Exclusive Micro-Meditations for Working Professionals
Highly popular Mindfulness meditation app has introduced a new category "Business Hours", which, for the first time ever for a meditation app, will help people, like you and I, to beat workplace-related stress.
Press Release
-
updated: Dec 8, 2016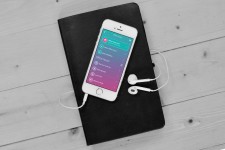 Atlanta, GA, December 8, 2016 (Newswire.com) - Around 83% of US professionals are down with workplace stress and professional stress resulting in a whooping loss of $300 billion in productivity! But fortunately the gory scene is inching towards a positive change this holiday season! Popular Mindfulness meditation app, Welzen, has just launched a new category "Business Hours" which is all about micro-meditations especially designed for the working professionals. It's for the first time a meditation app has come up with something exclusively for workplace-related stress.
The app is available for both Android and iOS (iPhone) users.
"Tight deadlines, performance pressure, sky-high targets, and cut-throat competition, working professionals have to face myriad challenges at their job every day that lead to a highly stressed situation for them. Tension is more heightened when it comes to presentations and meetings. It's dangerous because not only a stressed work life prevents the employees from achieving the perfect work-life balance, but also can cost the employer in millions. Thus, we have armed up Welzen with our unique 'Business Hours' category that will help the employees with tons of  Micro-meditations enabling them to stay stress free, focused  and mindful at their workplace. It's a phenomenal step in the arena of meditation apps, because no other app before could think of coming up with something specifically to address the job-related stress factors", stated Beatriz Ospina who has co-founded Welzen with Esteban Gonzalez.
The newly launched "Business Hours" houses 2 subcategories, Before Meetings and Office Hours.
Before Meetings
Personal Practice - 1-2 minute micro-meditations that will sweep one to a brief "private moment" of personal peace just before entering the meeting room

Group Practice - It includes a wealth of micro-meditations that will enable the user to host a moment of calm making his audience focused, truly ready & engaged with his presentation

Before Presentations - It's comprised of 2 minute micro-meditation sessions to calm the kicking nervousness that engulfs one just before a presentation.
Office Hours
It is bustling with a wide range of micro-meditations meant to help the user in starting his day on a positive note and retain that calm and composed mind round the clock. It has got meditations for different parts of a working day like lunch time, morning break, afternoon break, and so on.
"Our micro-meditations will enable you to steer clear of tension and anxiety faced minutes before a presentation and also when dealing with workplace challenges throughout the day. They are easy to practice, with just a tap on your mobile phone, you can listen to the meditations anywhere, without any external arrangement. You will end up being more focused, highly productive, and your leadership skills would soon reach a new height", said Beatriz
The newly introduced Business Hours category will soon allow users to set some gentle reminders that will keep on notifying about the needed meditation sessions throughout the day. No longer would they have to worry about unmindfully skipping out on meditation breaks.
To download Welzen meditation app, visit www.welzen.org.
Source: Welzen - Mindfulness Meditation App
Share:
---
Categories: Work, Yoga / Meditation, Corporate Social Responsibility
Tags: corporate, job stress, meditation, mindfulness, stress, work stress
---
Related Files
Additional Links