Mindfulness Meditation App Welzen, Released Its New Category "Better Sleep" as Permanent Solution to Insomnia
Leading Mindfulness meditation app, Welzen, has announced its new sleep category "Better Sleep" which ensures a permanent solution for insomia
Press Release
-
updated: Dec 20, 2016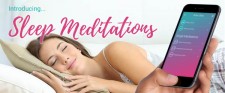 Atlanta, GA, December 20, 2016 (Newswire.com) - Around 30-35% of adult Americans report of insomnia symptoms and 10% suffer from chronic insomnia. Lack of required sleep is extremely damaging leading to fatigue, sudden mood swings, inability to focus and even accidents. But this holiday season brings in some great news; popular Mindfulness meditation app Welzen has introduced its new sleep series "Better Sleep", which promises to ensure the permanent solution for insomnia and sleepless nights.
The app, along with the latest series, is available for FREE download on both Android and iOS users.
Insomnia is a by-product of the stress and anxiety that have become the usual features of our contemporary fast-paced life. Life today hardly offers us the room to relax and we are left with a stressed body and mind. This results in lack of sleep which in turn keeps our stress hormones (Cortisol) constantly activated. Such a condition badly impacts our nervous system which again prevents us from enjoying the required deep slumber at night- it's a vicious cycle altogether which is worsening the quality of our life. Mindfulness meditation comes as a much needed relief as it calms the nervous system which effectively helps us to relax, rest and consequently sleep better.
"Many times our busy life takes away the much needed time to unwind and we become increasingly stressed out. Stress hormones not only affects the nervous system but also blocks the storage of our short-term memories; we become unable to recall things fast & maintain a strong hold on our thoughts. Ongoing stress results in insomnia which further leads to a whole lot of problems and poor life quality. Sleepless nights is a growing issue today that led many of our users to ask for specific meditations that can help them to unplug and sleep better. We released our "Better Sleep" series in hope that our users can find the necessary relief for insomnia. Mindfulness meditation will teach you how to relax and calm your mind so that there is no place for lingering anxious thoughts and you can eventually drift off to the desired good night sleep", stated Beatriz Ospina, Welzen's Editor in Chief and Co-Founder.
Better Sleep is packed with a number of features - There are on-the-go single meditations that can be practiced just anywhere to drive away lingering thoughts and relax the mind. "The relaxing visualizations are my favorite, they are like mini vacations for the mind", stated Beatriz. This category also offers breathing exercises and coaching sessions that will help users to understand the significance of Mindfulness for a good night sleep. Users will also find important information and instructions to work on key areas to make their meditation practice more effective for a better sleep.
New meditations are continuously being added to the series to render further boost to the users' meditation practice. Unlock the sleep series by subscribing to Welzen from www.welzen.org.
Source: Welzen.Org
Share:
---
Categories: Healthcare, Lifestyles, Yoga / Meditation
Tags: Insomnia, meditation, mindfulness, mobile app, sleep, sleep app
---