Token Security Scheme TSS Tokens Now Listed on EtherDelta Exchange
Increasing access of TSS tokens to current contributors and future supporters via cryptocurrency exchanges
Press Release
-
updated: Dec 12, 2017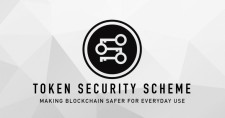 SINGAPORE, December 12, 2017 (Newswire.com) - 5M Holdings Pte Ltd announces today that their security ICO, Token Security Scheme, has now listed its TSS tokens on decentralized cryptocurrency exchange EtherDelta. The exchange was chosen because of the decentralized nature of the trading platform, giving traders full control over their funds and its easy integration with popular Ethereum wallet, Metamask. This move goes hand in hand with their focus on making blockchain safer for everyday use - ensuring the security of both contributors and company when conducting crypto-activities on the blockchain. The team is currently in discussion with many other cryptocurrency exchanges to list their tokens on.
Token holders can begin claiming their tokens in Metamask by installing its extension in Chrome browser and entering the following details:
Token Contract Address : 0x28481cdc0e4fa79164491d47e8837edeb3993f20
Token Ticker: TSS
Decimals: 18
Once TSS tokens appear in the wallet, token holders can access the TSS tokens page on EtherDelta here. For further information on how to trade on EtherDelta, please refer to this guide.
In addition to successful listing on EtherDelta, the team will embark on development works of building the infrastructure required to house multiple Distributed Hardware Security Modules (DHSM) to store recovery keys. These DHSMs will be set up in Enhanced Payment Card Industry (EPCI) security-compliant facilities located across the world and made available to their clients around the clock. Follow the team's progress on Facebook and Twitter.
Contacts & ICO Information
5M Holdings Website | Token Security Scheme Website
About 5M Holdings Pte Ltd / Parent company of Token Security Scheme
5M Holdings was created with the vision to make blockchain an inclusive technology, to unlock its full potential for all communities globally. To make this vision a reality, a secure and robust platform will be created by their team of security experts to protect an individual's or business' digital assets, preventing it from being hacked and used for malicious means. This platform will be scalable enough for other use cases of blockchain technology to be built upon, such as cryptocurrency exchanges, wallet providers, permissionless and permissioned blockchains like food safety blockchains and more. With greater security, comes endless possibilities. Their first security ICO, Token Security Scheme - Making Blockchain Safer for Everyday Use, concluded successfully on Dec. 4, 2017.
Source: 5M Holdings Ptd Ltd
---
Categories: Information Systems, IT Security, Information Technology, Business Security, Cryptocurrency
Tags: Blockchain, Cryptocurrency, Cybersecurity, Exchange, ICO
---