KeySafeBank Partners NEM Singapore and PAL Network to Collaborate and Underwrite Singapore's Foremost, Secured Third-Party, Institutional-Grade Custodian Digital Assets Vault
Press Release
•
updated: Nov 21, 2018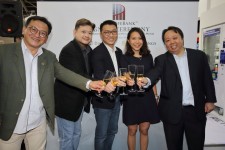 SINGAPORE, November 21, 2018 (Newswire.com) - KeySafeBank Partners NEM Singapore and PAL Network to Collaborate and Underwrite Singapore's Foremost, Secured Third-Party, Institutional-Grade Custodian Digital Assets Vault newest third-party institutional-grade custodian service signed two MoUs agreements with NEM Singapore and PAL Network, at Singapore FinTech Festival on Monday, 12 November 2018.
"KeySafeBank is very excited on our partnership with NEM and PAL Network. With NEM offering Smart Asset Blockchain platform and PAL Network as the leader in Crypto Asset Insurance, this partnership brings an enhanced value proposition to our crypto customers in secure custody and protection," says Mr Anthony Ong, Director, KeySafeBank.
Owned by DataPost & 5M holdings, KeySafeBank has appointed NEM Singapore, a subsidiary of NEM Foundation Global, to power its platform with NEM's world-class blockchain security solution. The first MoU was signed with NEM Singapore, a subsidiary of NEM Foundation.
"NEM is proud to have security domain expert, KeySafeBank partnering us to harness the power and benefits of our technology. NEM Singapore is constantly searching for prestigious partners and the MoU with KeySafeBank, represents a critical piece in the security domain to our eco-system jigsaw," said Mr William Tan, Country Leader, NEM Singapore.
KeySafeBank also signed a second MoU with PAL Network, which owns a blockchain platform for decentralized insurance. PAL Network is a dual-layered protocol for financial assets that utilises data to bridge the gap between consumers and financial providers. PAL Network will provide insurance coverage for cryptocurrencies and digital assets that customers will hold with KeySafeBank when it is launched.
"PAL Network has been collaborating closely with NEM on blockchain projects earlier since the first half of the year, and we are excited to extend our partnerships to KeySafeBank. I believe InsurTechs are here to stay and as enablers, we introduce new innovative insurance products for this industry," said CEO and Founder of PAL Network Val Ji-Hsuan Yap.
Contacts & Information
KeySafeBank | DataPost | 5M Holdings | NEM Foundation | PAL Network
About KeySafeBank Pte Ltd
KeySafeBank is a newly formed joint venture company formed by DataPost and 5M holdings. It is a third-party, institutional-grade custodian vault that can safely keep digital assets and cryptocurrencies securely. The partnership will leverage the competitive strengths of DataPost in secured data handling and 5M holdings in blockchain security, to create an industry cutting-edge digital asset storage solution.
DataPost is a majority-owned subsidiary of Jing King Group, a financial technology services group with interests in biometric digital identity, artificial intelligence, secured data handling, data analytics, and smart technologies.
5M Holdings is a blockchain security company working to unlock and protect wealth on the blockchain for everyone. The company aims to implement the best practices and technology from the banking and payment card industry to the blockchain ecosystem. 5M is focused on bringing greater awareness of blockchain security to the industry and enable all stakeholders to deploy blockchain security in every process.
About NEM Foundation
Built from the ground up for enterprise-grade performance, NEM's Blockchain technology delivers a world-class platform for management of almost any kind of asset: currencies, supply chains, notarizations, ownership records, and more.
Any application can access these features through NEM's simple API, allowing integration within mobile apps, existing business infrastructure, or contract logic. NEM's Smart Asset System and simple development API makes blockchain work for you with maximum customization and minimum disruption. NEM's advantages include performance, ease of development, customization, security.
PAL Network
PAL Network is a dual-layered protocol for financial assets that uses data to bridge the gap between consumers and insurance providers by providing a new level of accessibility within the financial ecosystem. The company also works with insurers to provide CryptoProtect insurance coverage for digital assets and smart contracts. PAL Network is a member of Singapore Fintech Association and ACCESS. PAL Network's affiliated entity, PolicyPal Singapore, MAS registered insurance broker has an active user base of 50,000 for its app, which helps users to manage, buy and optimise their insurance policies.
Currently, PAL Network has partnerships with insurance companies, FWD, Ergo and Munich Re, to explore potential use cases of our blockchain protocol together. Furthermore, we have also established collaborations with blockchain projects NEM, QTUM, Sentinel Protocol, MediBloc, Digix and traceto.io to offer CryptoProtect and mainstream insurance products for the projects themselves, along with their respective communities.
Source: KeySafeBank Pte Ltd
Related Media
Additional Links