DataPost and 5M Holdings Launch KeySafeBank, an Institutional-Grade Management and Custodial Solution for Digital Assets
Press Release
•
updated: Nov 16, 2018
The Joint Venture Signing Ceremony of KeySafeBank was held at the Singapore FinTech Festival 2018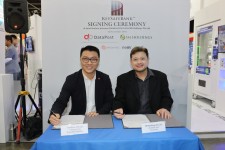 SINGAPORE, November 16, 2018 (Newswire.com) - Financial Institutions, High Net-worth Investors, Escrow Agents, Cryptocurrency Exchanges, Digital Asset Platform/Blockchains, Government and Regulatory Agencies will soon be able to tap on KeySafeBank, a new third-party, institutional-grade custody service that can safekeep digital assets and cryptocurrencies securely.
The digital asset cold storage vault will be developed and built by KeySafeBank Pte. Ltd., a joint venture in Singapore formed by DataPost and 5M Holdings. The partnership will leverage on the competitive strengths of both owners in secured data handling and blockchain security to create an industry cutting-edge digital asset storage solution.
DataPost is a majority-owned subsidiary of Jing King Tech Group, a financial technology services group with interests in biometric digital identity, artificial intelligence, secured data handling, data analytics, and smart technologies.
"As the market leader in Singapore for secured data handling, DataPost is a brand trusted by banks, insurers, government agencies and enterprises for more than 20 years in digitalization, inbound and outbound services. In the digital world, DataPost continuously seeks to capitalize on its core competence, solid experience, IT infrastructure and processes in secured data handling and compliance. DataPost's holding company, Jing King Tech Holdings, has more than two decades of manufacturing and personalization of credit, debit smart cards data and key management, and exchange experiences. Together with 5M holdings' expertise in the blockchain ecosystem, this joint venture forms a credible offering for the custodianship of digital assets and security tokens. We are very excited in this innovative, forerunner service that DataPost and 5M have created, as we continue to be relevant to our institutional customers' changing needs and enter into new territories," says Mr Anthony Ong, Executive Director, Datapost Pte. Ltd, and Group CEO of Jing King Tech Holdings.
KeySafeBank will be amongst industry pioneers in Singapore, with features such as hardware security devices underwritten by an auditable and certifiable key management process.
"This joint-venture between 5M and DataPost will leverage on the strength of both parties to build an industry leading edge cold storage solution to address the lack of certifiable, auditable and reliable third-party, institution-grade custody and management of digital assets and private keys. Our aim is to make the blockchain ecosystem safer and build the infrastructure for future growth of the digital asset class of the future", noted Mr Abraham Kee, Founder, 5M holdings Pte Ltd.
The service is currently planned to be launched in December 2018 in Singapore.
DataPost Pte Ltd
DataPost is the region's market leader in handling secured data services, and is the largest entity of this industry in Singapore, with the capacity and capability to process data into various digital and physical output. DataPost aims to transform the business landscape through digitalization and the enhancement of workflow processes and security requirements, providing convenience, ease and adding value to its stakeholders. DataPost is majority owned by Jing King Tech Group.
5M Holdings Pte Ltd
5M Holdings is a blockchain security company working to unlock and protect wealth on the blockchain for everyone. The company aims to implement the best practices and technology from the banking and payment card industry to the blockchain ecosystem. 5M is focused on bringing greater awareness of blockchain security to the industry and enable all stakeholders to deploy blockchain security in every process.
Contacts & Information
KeySafeBank | DataPost | 5M Holdings
Source: KeySafeBank Pte Ltd
Related Media
Additional Links