TJ Dental Center Launches Discount Cosmetic Dentistry Packages in Tijuana, Mexico
The state-of-the-art dental center has announced attractive cosmetic dental packages close to the US-Mexico border in Tijuana for a fraction of the US prices.
Press Release
-
Jan 19, 2016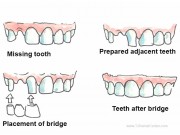 Tijuana, Mexico, January 19, 2016 (Newswire.com) - ​According to a 2012 survey conducted by the American Academy of Cosmetic Dentistry, over 45% of the respondents agreed that a pleasing smile is the most memorable feature of someone met the first time.
While cosmetic dentistry brings about a positive change to one's teeth and smile, its exorbitant price, especially in the United States and Canada, can be a major hindrance. To help North Americans say goodbye to broken, chipped, and unsightly teeth that mar their smile, TJ Dental Center has recently launched attractive packages for cosmetic dentistry in Tijuana, Mexico.
An official spokesperson for TJ Dental Center said: "There are a number of surveys that point out the importance of an aesthetically appealing smile. And while cosmetic dental procedures help one get the smile of their dreams, being elective in nature, they are often times not covered by insurance, and can cost an arm and a leg. Our packages allow people north of the border get a complete and affordable smile makeover not very far from home."
The spokesperson also added that in addition to the above mentioned procedures TJ Dental Center also offers more complex procedures, such as sinus lift, dental implants and dental bone grafting surgery in Tijuana, MX to both improve aesthetics and restore function.
TJ Dental Center works with a team of highly competent oral and cosmetic dental surgeons in Tijuana. They have a combined experience of a whopping 50 years. Conveniently located less than 50 minutes from the San Diego airport, the facility offers the latest treatments using modern, cutting-edge technology.
The center offers a host of services for the convenience of its clients. While a full mouth restoration package includes a 5-night hotel stay, their 6 crowns and veneers package includes a 1-night hotel stay. They also provide free airport pick and drop on select packages. More information can be availed by filling in the contact form on the website.
Here is a list of the cosmetic dentistry procedures offered by TJ Dental Center (according to the company spokesperson, the following is just an indicative list of treatments):
Zirconia

crowns
All-ceramic crowns
Porcelain-fused-to-metal crowns
Porcelain veneers
Dental bridges (both metal and flexible frame)
Full dentures (with acrylic/porcelain teeth)
Tijuana's strategic location in Baja California right across the San Ysidro Port of Entry makes it an ideal location for Americans and Canadians. With San Diego just about 17 miles to its north, TJ is one of the most-visited Mexican cities by Americans. To make it easier, TJ Dental Center also provides 24*7 destination support in English, Spanish and even French.
Contact TJ Dental Center for a free estimate by filling in the website quote-form.
Share:
---
Categories: Healthcare, Dentistry, Cosmetic and Reconstructive Surgery
Tags: cheap cosmetic dental work in tijuana mexico, cosmetic dental surgery in mexico, cosmetic dentistry affordable tijuana mexico, cosmetic dentistry mexico price
---