TJ Dental Center Announces Attractive All-on-4 Implant Packages in Tijuana, Mexico
All on 4 dental implants packages announced by a well-equipped, modern dental clinic in Tijuana, Baja California run by a team of an oral and maxillofacial surgeon and a cosmetic dentist with more than five decades of combined experience.
Press Release
-
Jan 19, 2016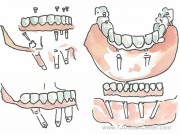 Tijuana, Mexico, January 19, 2016 (Newswire.com) - A state-of-the-art clinic right across San Ysidro in California, TJ Dental Center recently announced special packages for full arch rehabilitation with All-on-4 implants in Tijuana, Mexico.
"Dental work in the United States and Canada can be quite expensive. And because of the steep prices, Americans and Canadians often settle down for unwieldy removable dentures, which are not as optimal as All-on-4 implants for restoring function and aesthetics of the entire jaw. Our package price for All-on-4 in TJ is about 60 to 70% lower than the prices charged in the US, and allows you to replace missing teeth without breaking the bank," said the spokesperson of the dental center.
The customized packages of the company include free airport-hotel-clinic ground transfers. He added: "Our North American clients usually land at the San Diego airport, and are provided free airport pick-up. The entire process is really hassle-free. It doesn't feel like you are traveling to a foreign country in the traditional sense. Our case managers ensure all your needs are well taken care of and are willing to answer each and every query you have, promptly."
The spokesperson added that in addition to the affordable price of all on 4 implants, Tijuana also offered North Americans the advantage of reduced travel time and expenses because of its proximity to the United States.
"Our dental center is just about 45 minutes from the San Diego International Airport" said the spokesperson.
All on 4 dental implants are efficient fixed full arch restorative solutions for those who have either lost all their teeth or are on the verge of losing all of them. It is a prosthodontic treatment that involves placing four implants in either of the jaws to support a fixed acrylic bridge in the complete arch.
The spokesperson further said, "All on 4s score over traditional implants as the former do not involve any bone grafting procedure. Instead, they utilize the available bone. After getting topped with an acrylic bridge, they make it possible for the patient to have a functional set of teeth in just a single trip."
He also said that the treatment will be performed by a highly experienced oral and maxillofacial surgeon in Tijuana who is a member of the American Academy of Implant Dentistry.
In addition to All-on-4s, the dental center also offers traditional dental implants close to the US-Mexico border.
More information on affordable dental implants by TJ Dental Center can be availed by filling in the contact form on the website.  
Share:
---
Categories: Healthcare, Dentistry
Tags: all on 4 cost tijuana mexico, all on 4 overdenture in tijuana mexico, full arch restoration in mexico, implant dental center tijuana, one trip dental implants in mexico
---