Timothy E. Enders's New Book "Revelation: Hiding in Plain Sight" is a Remarkable, Scripture-Based Guide for Unlocking the Secrets in the Cryptic Book of Revelation.
"Revelation: Hiding in Plain Sight" from Timothy E. Enders is a fascinating discussion that lays bare keys for unlocking the puzzles of the last and most elusive book in the Holy Bible, a discussion that claims no higher credit to itself, only that Scripture reveals Scripture, and that the plan for salvation and the future as offered to John is accessible to the reader—if one knows where to look
Press Release
-
updated: Jul 6, 2018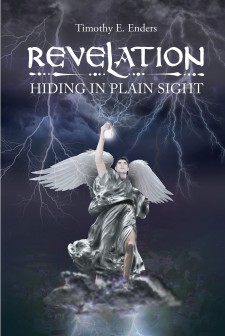 Peru, KS, July 6, 2018 (Newswire.com) - Timothy E. Enders, an Andrews University–educated lay preacher, local schoolteacher, father, and grandfather who with his wife owns a nonprofit primary care medical clinic for the uninsured, has completed his new book, "Revelation: Hiding in Plain Sight":  an intriguing Scripture-based treatise that puzzles out the secrets of the book of Revelation.
Enders shares, "The word revelation is the opposite of sealed. It means the opening to understanding what has previously been unknown. Man, in his normal, listless spiritual state cannot understand the Bible. In Isaiah 29:11, the prophet states that to those who will not see, the Bible is as sealed to them, they are not able to understand it. Those intentionally rejecting the truth are like those skipping class entirely. The truths in it are hidden from those who won't listen as effectively as if it was sealed. A student not listening in class, playing, or talking with others, did not hear what the teacher said. Revelation 1:3 promises a blessing to those who read and study Revelation with the intent to follow and keep what it reveals."
Published by Covenant Books of Murrells Inlet, South Carolina, Timothy E. Enders's new book is an engaging work with a simple premise and forthright prose that nonetheless carries profound implications for the church today—declaring that it is time to wake up to the message in Scripture, lying in wait for eyes willing to see and ears willing to hear.
Enders does not content himself with presenting the answers to the most intimidating but irresistibly fascinating book of the Bible—he also challenges the reader to come to the truth with a ready and receptive heart, for this is, after all, the Holy Spirit's core requirement for enabling one to understand truths that have been there all along.
Readers can purchase "Revelation: Hiding in Plain Sight" at bookstores everywhere, or online at the Apple iTunes store, Amazon, or Barnes and Noble.
Covenant books is an international Christian owned and operated publishing house based in Murrells Inlet, South Carolina. Covenant Books specializes in all genres of work which appeal to the Christian market. For additional information or media inquiries, contact Covenant Books at 843-507-8373.
Source: Covenant Books
---
Categories: Books
Tags: "Revelation: Hiding in Plain Sight", Covenant Books, Timothy E. Enders
---