Tiffanylee Studios Brings Classic Storybooks to Life in Ways You Won't Believe
The Storybook Collection brings the characters out of your favorite classic storybooks and places them in the hands of children everywhere.
Press Release
-
Jul 19, 2016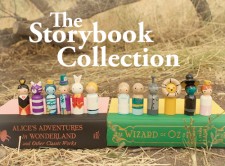 Herriman, UT, July 19, 2016 (Newswire.com) - Toy designer Tiffany LaGrange is preparing to launch her amazing new collection of colorful Peggies and wall art prints on Aug 1st, 2016.
There's nothing quite like a good book.  Some books withstand the test of time, taking children today on the same adventures their grandparents  and great grandparents went on.  These books remain in our hearts forever and now the beloved characters can be held in our hands to be sent on new adventures by our children.
Tiffany LaGrange has always had a strong connection with books.  Like a good friend, she treasures the intimate moments spent between the pages.  The power of simply turning to that first page, releasing characters trapped between book covers.  The adventures that await grab her by the heart and hand as she joins them wherever the words take them.  
With this in mind, Tiffany created the Storybook Collection.  Inspired by the characters brought to life by the works of L. Frank Baum and Lewis Carrol, this collection features wooden toys and art to retell the stories of the Wizard of Oz and Alice's Adventures in Wonderland.  It's her goal to help children discover these pieces of literature and take the characters on new adventures spurred on by their own imaginations.
The Storybook Collection is set to be one of the biggest collections put out by Tiffanylee Studios.  It's filled with darling, hand constructed wooden toys, delicately painted with bright, cheerful colors.  Crisp, giclee art prints feature charming characters from the books and page excerpts from the actual stories.
Known for her unique Peg Doll design and her mixture of both vintage and modern artistry, Tiffany takes care in making each and every toy a work of art.  It is of utmost importance to her that each and every product that leaves the shop is a combination of both quality and heart.  Receiving a toy should be wonderfully memorable and never forgotten.  Her toys that last generations and can be happily passed down to children and grand children for years to come.
Tiffany is prepared to help your children open up a new world of play.  Play that is inspired by storybooks we know and love and taken further than can be imagined.  With toys that are as unique and special as the children they are given to.  Inspire a new type of story telling with the Storybook Collection.
About Tiffanylee Studios:
Tiffanylee Studios is the result of years of study in art and play. Growing up, Tiffany knew she wanted a career in art. She went to art school and learned anything from animation to illustration to children's books. But it wasn't until she had kids that ideas started to form.
She began a family shortly after graduating from college. First one boy and then another. She began to notice that her boys weren't like other siblings. They both dealt with special needs that made it very difficult for them to be near each other without clashing drastically.
With a feeling of stress and hopelessness, Tiffany knew she had to do something to help her kids socially and to get herself through the day. So she started daily play activities. Placed in a jar known as the "fun jar" they would pull a new activity each day for them to do together while Tiffany worked hard to teach them to get along.
Posting the activities on facebook created a lot of buzz and soon a friend asked her to join her in a blog. The fun jar activities became a big hit on the blog but soon Tiffany wanted to find ways to connect her art to play. Peg Dolls were big in the blog world and Tiffany began working hard to create a unique peg doll with a special shape and could be both toy and art.
People went crazy for them. She would make them as Valentines gifts for her boys' classmates and they began to ask for them every year, wanting to know what new design she would make. She made them as Christmas gifts for her family, making sets she knew each child would love. Wanting to share her toys outside of the immediate family, she began her shop.
Since then, Tiffany has worked hard to create Peggie sets that she knows children will love. More than a "doll" or "action figure", Peggies are made for both boys and girls. She has added paper crafts and artwork that work along with the Peggie sets as well. Her one goal is to create a new kind of adventure for children to turn to. One that inspires the imagination and creativity of children everywhere.
You can contact Tiffany LaGrange personally at artbytiffany@icloud.com or through her website at http://tiffanyleestudios.weebly.com
You can check out the complete line when it launches in August at http://tiffanyleestudios.weebly.com​
Source: Tiffanylee Studios
Share:
---
Categories: Games and Play, Toys, Family
Tags: Books, Children's wall art, peg dolls, Unique Kids Gifts, Unique Kids Toys, Wooden Toys
---