Three-Time Grammy and Emmy Award Artist Tom Scott Featured on New Album by Isaiah Stewart
Jazz-funk artist Isaiah Stewart releases fifth album "Summer Beat," featuring jazz legend Tom Scott, famous for work with Paul McCartney, George Harrison, the Beach Boys, Whitney Houston, Grateful Dead, and Pink Floyd.
Press Release
-
updated: Jun 19, 2018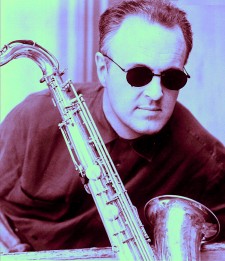 SALT LAKE CITY, June 19, 2018 (Newswire.com) - Jazz-funk drummer and worldwide recording artist Isaiah Stewart announces the release of his fifth album "Summer Beat," featuring world-renowned artist, arranger, producer and saxophonist Tom Scott.
Scott has appeared on chart-topping albums by Paul McCartney, George Harrison, the Beach Boys, Grateful Dead, Pink Floyd, Rod Stewart, Whitney Houston, Barbra Streisand, Aerosmith, Steely Dan, Josh Groban, Toto, Joni Mitchell, Blondie, Eddie Money, Quincy Jones, Steppenwolf, America, Dolly Parton, Ray Charles, Richard Marx, Carole King, Joan Baez, Helen Reddy, Olivia Newton-John and Frank Sinatra.
Throughout his four-decade career, Scott has received 14 Grammy Award nominations and won a total of three. He received an Emmy Award in 2011 and was nominated for a second Emmy in 2017.
"Tom Scott's musical bio reads like a list of the biggest selling artists in the history," Stewart says. "From the chart-topping sax hook of Paul McCartney's 'Listen to What The Man Said' to the iconic solos on Whitney Houston's 'Saving All My Love' and 'I Will Always Love You' to numerous top 40 hits by George Harrison, Joni Mitchell, Blonde and Steely Dan – you regularly find Mr. Scott's musical expertise among the secret ingredients that make a song a 'hit song.'"
Scott has released dozens of albums as a solo artist, and Madonna, Eminem, Jennifer Lopez, Snoop Dogg, 2Pac, Kendrick Lamar, Wiz Khalifa, Wu-Tang Clan, Notorious BIG, NWA, Public Enemy, Faith Evans, Warren G, Musiq Soulchild, Xzibit, Redman, Chemical Brothers, and Aphex Twin have all sampled Scott's original music.
"It's amazing how many pop, R&B, and hip-hop songs I hear today containing samples from Mr. Scott's original compositions," Stewart says. "His music is deeply entrenched in all aspects of current pop culture and he remains one of the most important musical icons on the scene today. Collaborating with such a renowned, illustrious jazz legend is not only an honor but the experience of a lifetime."
"Summer Beat" is available June 25 at cdbaby, iTunes, Amazon and all other popular online retail and music-streaming services worldwide.
The album also features world-renowned Grammy Award-winning artists Randy Brecker (Frank Sinatra, Bruce Springsteen, Stevie Wonder, Aerosmith, Frank Zappa) and Eumir Deodato (Frank Sinatra, Bjork, Kool & The Gang, Earth Wind & Fire) as well as popular session guitarist Jamie Glaser (Jean-Luc Ponty, Chick Corea, Bryan Adams, Gloria Trevi) and bassist Johnny Lightfoot (Air Supply).
Scott's signature tenor and alto saxophone playing is featured on three songs: "Power Up," "Summer Beat," and "Hollywood Funk."
"I composed these three songs specifically with Mr. Scott in mind," Stewart says. "Respectively, they speak to different facets of his extensive musical catalog. 'Power Up' showcases Mr. Scott's blues and rock playing, while 'Summer Beat' features his jazzier side. Lastly, 'Hollywood Funk' explores Mr. Scott's funk and fusion prowess. Together, these songs represent my personal homage to this highly celebrated artist."
For 18 years listeners around the world have sampled, downloaded and streamed music from Stewart's prior albums more than 7.6 million times. "Summer Beat" is similar in style to past efforts but, according to Stewart, will be more "soulful," "melodic" and "funky" - offering listeners "everything from smooth jazz to old-school funk and jazz-rock fusion."
Since releasing his previous albums: "Thrill Ride" (2015), "Groove Garden" (2010), "Urban Playground" (2005), and "Life Games" (2000), Stewart has maintained a unique worldwide position with listeners throughout more than 170 countries.
Stewart's global popularity as an artist began in late 2001, when "Midtown Funk," a jazz-funk single from his first album "Life Games," charted to 15 on MP3.com's overall worldwide top 40, surpassing songs from popular artists at the time such as Madonna, Eminem, Mariah Carey, Faith Hill, Linkin Park, The Offspring and Sum 41.
At the time, MP3.com was the world's number one digital music site, receiving more than 35 million visitors a month, and during that year, the site's jazz top 20 frequently contained all 14 tracks from "Life Games" simultaneously.
"It's stunning when the local papers start calling you up," Stewart says. "I had already achieved some measure of success with jazz radio stations throughout the Intermountain West but obtaining global success came as a complete surprise. Charting higher than Madonna, Eminem or Mariah is certainly nothing any independent artist ever thinks possible."
Stewart's most recent album "Thrill Ride" charted to number eight worldwide on ReverbNation, the popular global digital music platform that features more than 3.8 million musicians, fans, venues, and labels throughout more than 130 countries worldwide, including popular artists such as Eminem, Rihanna, Rick Ross, P-Diddy, Judas Priest and Public Enemy.
"Thrill Ride" is Stewart's biggest selling album to date and remained in ReverbNation's top ten worldwide for eight consecutive weeks; the site's top 20 for 19 consecutive weeks; and the site's top 40 for nine consecutive months.
"My last album exposed me to new listeners worldwide and I am hoping to build on that success with this new album," Stewart says. "I am emphasizing melody and including smoother jazz elements along with my trademark funk-styled compositions."
Stewart says the album title, "Summer Beat," refers to his lifelong love of listening to classic jazz and funk albums during the summer months.
"I have always felt that summer shares a lot in common with jazz and funk music," Stewart says. "Like summer, the music is about spontaneity, seizing the moment, taking wholehearted action, and having a lot of fun. Jazz-funk is also exhilarating like a blazing-hot summer sun delivering a burst of light, warmth, and joy that uplifts the soul."
Born in Salt Lake City, Utah, Isaiah Stewart (ASCAP) is a drummer, composer, multi-instrumentalist and worldwide recording artist who studied contemporary songwriting with the Berklee College of Music and musical production at the University of Utah. A professional drummer since age 9, Stewart has studied with many of the world's most highly recognized drum artists, including Tony Williams, Neil Peart, Terry Bozzio, Mike Portnoy, Steve Gadd, Billy Cobham, Dave Weckl, Dennis Chambers, Virgil Donati, Steve Smith, David Garibaldi and Joe Morello.
Stewart is the son of Utah opera singer Mary Elaine Shewell, who was personally mentored by and regularly performed with world-renowned conductor Maurice Abravanel, who received a Tony Award, the National Medal of Arts from President George H.W. Bush, and numerous Grammy nominations for his classical recordings with the Utah Symphony Orchestra that he conducted for more than 30 years.
Source: Isaiah Stewart
Share:
---
Categories: Arts and Entertainment
Tags: Aerosmith, Eminem, George Harrison, Grateful Dead, Jennifer Lopez, Kendrick Lamar, Madonna, Paul McCartney, Pink Floyd, Rod Stewart, The Beach Boys, Whitney Houston
---