Grammy Artist Eumir Deodato Featured on New Album by Isaiah Stewart
Jazz-funk artist Isaiah Stewart releases fifth album "Summer Beat," featuring Eumir Deodato, best-selling artist and producer famous for work with Frank Sinatra, Aretha Franklin, Roberta Flack, Antonio Carlos Jobim, Earth Wind & Fire, Kool & The Gang, k.d. lang and Bjork.
Press Release
-
updated: Jun 12, 2018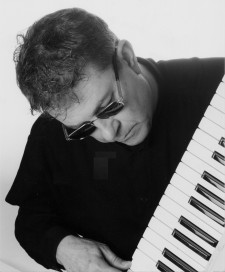 SALT LAKE CITY, June 12, 2018 (Newswire.com) - Jazz-funk drummer and worldwide recording artist Isaiah Stewart announces the release of his fifth album "Summer Beat," featuring Eumir Deodato, world-renowned Brazilian artist, arranger and producer who has produced 16 platinum albums, garnering record sales of more than 25 million units in the U.S. alone.
Deodato is famous for his chart-topping rendition of "2001: A Space Odyssey," which earned him a Grammy Award, charted to No. 2 on Billboard's Top 40 and sold more than five million albums. Madonna, Snoop Dogg, Sean "Diddy" Combs, The Notorious BIG, Lupe Fiasco, Nelly, J Dilla, Fat Joe, Angie Stone and Common have all sampled Deodato's original music.
Deodato is also renowned for co-writing, arranging and producing Kool & The Gang's No. 1 Billboard hit "Celebration," the iconic song heard today throughout the world at weddings, parties, conventions and sporting events.
"With 16 Platinum albums and over 25 million in album sales to his credit, Eumir Deodato remains one of the top icons in the music industry," Stewart says. "Today's biggest pop artists and rappers have sampled his original music for many of their biggest Top 40 hits," he adds. "Mr. Deodato's chart-topping rendition of '2001' was my first exposure to jazz-rock music and I remain a lifelong fan of his phenomenal keyboard playing, composing, arranging and record producing."
"Summer Beat" will be available June 25 on cdbaby, iTunes, Amazon and all other popular online retail and music-streaming services worldwide.
The album also features world-renowned Grammy Award-winning artists Randy Brecker (Frank Sinatra, Bruce Springstein, Stevie Wonder, Aerosmith) and Tom Scott (Paul McCartney, George Harrison, Whitney Houston, Steely Dan) as well as popular session guitarist Jamie Glaser (Jean-Luc Ponty, Chick Corea, Bryan Adams, Gloria Trevi) and bassist Johnny Lightfoot (Air Supply).
Deodato's work on "Summer Beat" was recorded and engineered by Jason Miles, the New York-based Grammy Award-winning producer renowned for work with popular artists including Michael Jackson, Whitney Houston, Sting, Miles Davis, Al Jarreau, Luther Vandross, Brian Setzer, Herbie Hancock, Herb Alpert and Sheila E.
Deodato's signature Fender Rhodes electric piano playing is featured on three songs: "Westside Funk," "Chase the Sun," and "Urban Strut."
"I composed these three songs specifically with Mr. Deodato in mind," Stewart says. "Respectively, they speak to different facets of his musically diverse personality. 'Westside Funk' showcases his disco-funk expertise while 'Urban Strut' explores his mastery of jazz-rock fusion. Lastly, Mr. Deodato began his career performing bossa nova in Brazil and 'Chase the Sun' is my homage to the wonderful music of Brazil."
For 18 years, listeners around the world have sampled, downloaded and streamed music from Stewart's prior albums more than 7.6 million times. "Summer Beat" is similar in style to past efforts but, according to Stewart, will be more "soulful," "melodic" and "funky" – offering listeners "everything from smooth jazz to old school funk and jazz-rock fusion."
Since releasing his previous albums: "Thrill Ride" (2015), "Groove Garden" (2010), "Urban Playground" (2005), and "Life Games" (2000), Stewart has maintained a unique worldwide position with listeners throughout more than 170 countries.
Stewart's global popularity as an artist began in late 2001, when "Midtown Funk," a jazz-funk single from his first album "Life Games," charted to 15 on MP3.com's overall worldwide top 40, surpassing songs from popular artists at the time such as Madonna, Eminem, Mariah Carey, Faith Hill, Linkin Park, The Offspring and Sum 41.
At the time, MP3.com was the world's number one digital music site, receiving more than 35 million visitors a month, and during that year, the site's jazz top 20 frequently contained all 14 tracks from "Life Games" simultaneously.
"It's stunning when the local papers start calling you up," Stewart says. "I had already achieved some measure of success with jazz radio stations throughout the Intermountain West but obtaining global success came as a complete surprise. Charting higher than Madonna, Eminem or Mariah is certainly nothing any independent artist ever thinks possible."
Stewart's most recent album "Thrill Ride" charted to number eight worldwide on ReverbNation, the popular global digital music platform that features more than 3.8 million musicians, fans, venues, and labels throughout more than 130 countries worldwide, including popular artists such as Eminem, Rihanna, Rick Ross, P-Diddy, Judas Priest and Public Enemy.
"Thrill Ride" is Stewart's biggest selling album to date and remained in ReverbNation's top ten worldwide for eight consecutive weeks; the site's top 20 for 19 consecutive weeks; and the site's top 40 for nine consecutive months.
"My last album exposed me to new listeners worldwide and I am hoping to build on that success with this new album," Stewart says. "I am emphasizing melody and including smoother jazz elements along with my trademark funk-styled compositions."
Stewart says the album title, "Summer Beat," refers to his lifelong love of listening to classic jazz and funk albums during the summer months.
"I have always felt that summer shares a lot in common with jazz and funk music," Stewart says. "Like summer, the music is about spontaneity, seizing the moment, taking wholehearted action, and having a lot of fun. Jazz-funk is also exhilarating like a blazing-hot summer sun delivering a burst of light, warmth and joy that uplifts the soul."
Born in Salt Lake City, Utah, Isaiah Stewart (ASCAP) is a drummer, composer, multi-instrumentalist and worldwide recording artist who studied contemporary songwriting with the Berklee College of Music and musical production at the University of Utah. A professional drummer since age 9, Stewart has studied with many of the world's most highly recognized drum artists, including Tony Williams, Neil Peart, Terry Bozzio, Mike Portnoy, Steve Gadd, Billy Cobham, Dave Weckl, Dennis Chambers, Virgil Donati, Steve Smith, David Garibaldi and Joe Morello.
Stewart is the son of Utah opera singer Mary Elaine Shewell, who was personally mentored by and regularly performed with world-renowned conductor Maurice Abravanel, who received a Tony Award, the National Metal of Arts from President George H.W. Bush, and numerous Grammy nominations for his classical recordings with the Utah Symphony Orchestra that he conducted for more than 30 years.
Source: Isaiah Stewart
Share:
---
Categories: Arts and Entertainment
Tags: Antonio Carlos Jobim, Aretha Franklin, Bjork, Earth Wind & Fire, Eumir Deodato, Frank Sinatra, k.d. lang, Madonna, Nelly, Sean "Diddy" Combs, Snoop Dogg, The Notorious BIG
---