Thought Leader Jack Uldrich to Discuss Emerging Trends in Energy and Utilities
Press Release
•
Oct 6, 2016
Global Futurist and Founder of The School of Unlearning, Jack Uldrich will address Power South in Destin, FL on Friday, October 7.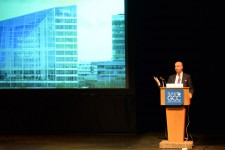 Orlando, FL, October 6, 2016 (Newswire.com) - Last April, Futurist Jack Uldrich provided insight into energy trends and leadership with his keynote, "Leadership for a Changing World: The Big AHA" for Power South Energy Cooperative.
On Friday, October 8, Uldrich will return to Power South and discuss the latest emerging trends in the energy and utility industry.
Continuous disruption is the new normal when it comes to energy.

Jack Uldrich, Global Futurist
Uldrich, who has been hailed as the "Chief Unlearning Officer" by Businessweek says, "Continuous disruption is the new normal when it comes to energy. The most successful innovators/leaders in the utility industry will give themselves and the people they manage time and space to unlearn old unproductive habits and ways of thinking."
The School of Unlearning, a consulting agency for change management was founded by Jack Uldrich in 2003. (More can be read about it in this Minnesota Business Magazine article.)
A distinguished thought leader and global futurist, Jack Uldrich is the author of 11 books and a regular guest and contributor for a number of national news outlets. He also frequently appears on the Science Channel's FutureScape and Discovery Channel's Inside Out.
He is known throughout the world for his assessment of renewable energy and technological trends and their effect on our society. He has delivered keynote presentations and workshops for San Diego Gas & Electric, the Southern California Gas Company, Southern Company, Northwestern Energy, the Wabash Valley Power Power Association, the National Rural Electric Cooperative Association, Idaho Power, Northwestern Energy, the Minnesota Rural Electric Cooperative, the Western Energy Institute, Idaho Power, the American Public Power Association, the Northwest Public Power Association, the Eugene Board of Water and Electricity, the Missouri River Energy Service, the Sacramento Municipal Utility District, Wisconsin Public Power, among others.
Uldrich says, "Sometime in the next century the utility industry will be challenged in a way for which it has no precedent." He hopes the information he shares with organizations will shed some light on how to prepare for and weather the storms they will face in the future.
Parties interested in learning more about Jack Uldrich, his books, his daily blog or his speaking availability are encouraged to visit his website.
Source: The School of Unlearning
Related Media