This Book Could Be the Understanding, Validation, and Hope Someone Who is Struggling With a Loss Desperately Needs
Press Release
-
Oct 20, 2016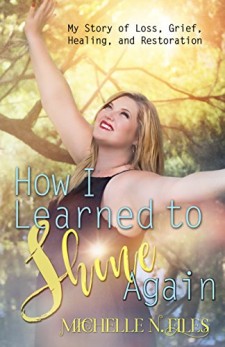 Charleston, SC, October 20, 2016 (Newswire.com) - On October 25th 2013, Michelle Files' life was changed in an instant.  The unexpected loss of her husband, Chris, turned her life upside down and she found herself on a path of grieving. 
Michelle's Mom, Cathy Riner Fravel, said, "There was a time I didn't know if I was ever going to get my girl back again. But she's back and better than before (she lost Chris.)"
On the third anniversary of Chris' passing, Michelle releases her book, How I Learned to Shine Again: My Story of Loss, Grief, Healing, and Restoration.  This book will be available October 25th 2016 on all major e-book platforms.
"This Book Could Be the Understanding, Validation, and Hope Someone Who is Struggling With a Loss Desperately Needs" -Lori Kay Linney
About the Book:
Inside the pages of this book resides a piece of my heart. It's a glimpse into my soul during the most traumatic and heartbreaking time of my life—the loss of my husband. This is my story of how through faith, family, friends, counseling, and writing I mustered the strength to crawl out of the dark cave of despair, washed away the pain, found healing, and unearthed a new life of joy, peace, and love. This is my journey through the wretched webs of grief, and it is my wish you will find comfort through my struggles. Most importantly, I hope you will find the courage in your heart to live fully, to love boldly, to shine brightly, and to never give up on your always and forever.
About the Author:
Michelle N. Files was born and raised in wild, wonderful West Virginia. While her first passion is accounting, not long into adulthood, Michelle rediscovered her love of books and with it the joy and fulfillment of writing her own stories. After the sudden loss of her husband in 2013, she found healing and restoration in chronicling her own personal journey through grief and with it the calling to pen self-help and motivational nonfiction. She spends her time combining her love of numbers and words by teaching accounting at local colleges and through her writing of both fictional and real life stories of life, love, and friendship, or as she puts it weaving tales of always and forever.
When she's not teaching or writing, you'll find her reading, hanging with her furry children, or out and about on adventures with family and friends.
Source: Author Michelle Files
Share:
---
Categories: Books, Publishing and Printing, Religion, Faith, Arts and Entertainment
Tags: Books, Faith, Grief, Loss, Restoration
---