Saint Louis Author Cynthia Reeg Releases the Next Installment in the 'Monster of Die' Series
Press Release
-
updated: Oct 10, 2017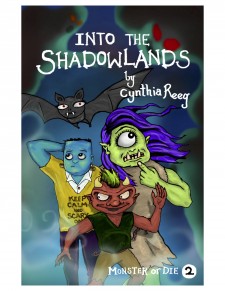 ST. LOUIS, October 10, 2017 (Newswire.com) - St. Louis Author Cynthia Reeg has released the next installment in the "Monster of Die" series.  
School Library Journal said, "There s a little something for everyone here; suspense, adventure, a blossoming romance, and some truly corny humor from a two-headed gargoyle."
About the book:
In this tale of two monsters, seventh-grade troll Malcolm McNastee is on a mission to rid Uggarland of misfits, especially Frankenstein (Frank) Frightface Gordon. Much to Malcolm's horror, Frank rescued Malcolm's disgraced dad from exile. This unspeakable act could tarnish Malcolm's true-blood troll reputation. On the other claw, Frank — a neat freak who's never fit the normal monster mode — must quickly reform under a new Uggarland law. If he doesn't, he could face exile — or worse. 
Malcolm decides to regain his good-monster standing by leading Frank and a band of misfits into the dangerous Shadowlands — where many enter and few emerge unscathed. Frank and Malcolm must brave the Shadowlands' perils, realizing that even if they make it out alive, their lives will never be the same.
About the author:
"I'm a curious librarian who ventured from behind the stacks to become a children's author. Now I contend with monsters, mayhem, and odd assortments of characters — both real and imagined—on a daily basis. As an advocate for children's literacy and supreme defender of reluctant readers everywhere, I manipulate words into wondrous kid-friendly creations to be enjoyed over and over again. As one of my poems attests, I'm always reaching for the stars."
For more information, visit www.cynthiareeg.com.
Source: Cynthia Reeg
Share:
---
Categories: A&E News, Books, Arts and Entertainment
Tags: Books, childrens books, entertainment
---