The Worlds First Bi-Spectrum Sea Turtle Safe LED Light Fixture Released by Global Tech LED
Press Release
•
Oct 18, 2016
Based on the Coast in South Florida, Global Tech LED has Developed the World's First Bi Spectrum LED Light Fixture that is a Turtle Safe Spectrum During Turtle Season and White Spectrum During the Off Season. Made in the USA, it Features over 100,000 Hours Life Expectancy and 75% Less Energy Usage.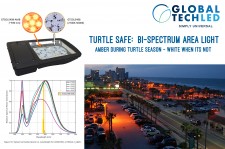 Bonita Springs, FL, October 18, 2016 (Newswire.com) - Special "Turtle Lighting" is required in locations near beaches where sea turtles nest. The turtle lighting spectrum is based at 590nm wavelength of light, which is nearly invisible to sea turtle hatchings. It is vitally important that turtle lights are the only man-made light sources that are visible to sea turtle hatchings at the time that they hatch, ensuring they journey in the correct direction following the moon to the "safety" of the ocean.
Besides exorbitant energy use, the biggest issue with traditional turtle lighting is that Sea turtle nesting season lasts around 5 months, but the current lighting technology is not easily convertible to a normal white light spectrum for the majority of the year that is not nesting season. Global Tech LED has solved both of these issues in a sleek, modern, new bi-spectrum LED fixture.
The ability to easily change between the turtle safe spectrum and the standard white lighting spectrum is revolutionary. Now, businesses do not have to deal with the aesthetically unpleasing turtle safe lighting all year long, or spend money to have the lamps swapped twice a year. Plus, the LED conversion will save so much energy the fixtures will pay for themselves in around a year in most cases.

John Burns, Director of Marketing
The new Bi-Spectrum turtle light contains LED light sources for both standard white and turtle light spectrums that are easily convertible via switch, smart control technology, or scheduling. Utilizing this fixture means that the non-aesthetically pleasing orange glow and low visual detail of turtle lighting will not have to be used in the turtle off season. Beyond the brilliant functionality, the turtle fixture itself has a beautiful sleek modern fixture look that compliments any area lighting location. This fixture features a Made in America 5 year warranty and expected life of up to 100,000 hours.
Global Tech LED says this area light is the first in a line of fixtures that will have the same bi-spectrum functionality. Garage lighters, wall packs, and decorative post top styles are among the new style bi-spectrum fixtures becoming available.
Global Tech LED also has a wide range of LED retrofit kits available with the Turtle Safe Module for easy replacement of traditional lamps to LED without the need to change the existing fixture.
Global Tech LED proudly designs and manufactures LED lighting products in the USA and offers an industry leading warranty. To learn more about the Bi-Spectrum LED turtle fixtures, or any Global Tech LED products, visit www.GlobalTechLED.com.
Source: Global Tech LED
Related Media
Tags
Related Files