The Way of Miracles Documentary Awarded the 2021 Best Health Awareness Film
Press Release
•
updated: Jul 8, 2021
Mark Mincolla, PhD, Honored With the Divine Contribution to Humanity Award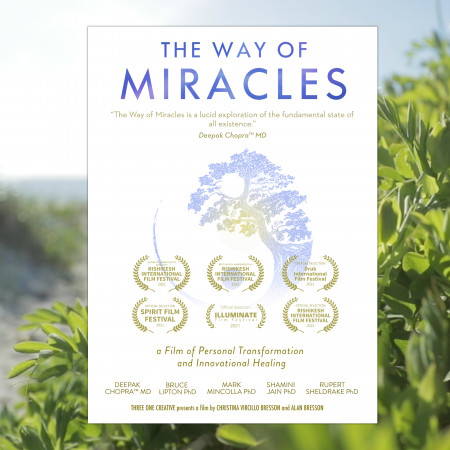 NEW YORK, June 10, 2021 (Newswire.com) - The Way of Miracles, a Three One Creative production, was recently honored at the Rishikesh International Film Festival as the Best Health Awareness Film of 2021, and Dr. Mark Mincolla was awarded the Divine Contribution to Humanity Award for his years of research and work in promoting a deeper awareness of consciousness and healing for mankind.
The Way of Miracles is a groundbreaking film that takes us on a journey of human healing and personal empowerment. Miracle recoveries and their underlying science are explored and uncovered in this thought-provoking documentary. Integrating lessons from traditional Western medicine and ancient holistic systems, this film follows the work of holistic practitioner Dr. Mark Mincolla, with compelling interviews from celebrated luminaries in the field including Dr. Deepak Chopra; Bruce Lipton, PhD, and many other luminaries.
East meets West, and ancient systems converge with cutting edge science into a deeper understanding of body, mind, and spirit medicine. Discover how to harness the power of healing by exploring how the energetic properties of food, thought, and emotion affect immunity, chronic inflammation, and the genetic expression of disease. Ultimately it leads us to an understanding of the higher self and our alignment with universal love. The Way of Miracles will be released on June 25, 2021.
"The Way of Miracles is a lucid exploration of the fundamental state of existence. This film should convince you that life and existence are miracles, and healing is a return to our original state of truth, awareness and bliss."

Deepak Chopra, MD

Best-selling author of Metahuman
Mark Mincolla, PhD, is a Nutritional Therapist and quantum energy healer who has transformed the lives of more than 60,000 patients over the last 35 years. Through his innovative genius, he has integrated ancient Chinese energy healing techniques with cutting-edge nutritional science in what he calls Electromagnetic Muscle Testing, a one-of-a-kind approach that zeros in on each individual's unique nutritional needs. Dr. Mark has authored seven books to date: The Wu Way, The Tao of Chi, Maximum Healing, Customized Healing, Whole Health, The Whole Health Diet, and his upcoming book, The Way of Miracles: Accessing Your Superconsciousness (June 22, 2021, Beyond Words Publishing). https://www.thewayofmiracles.com
Christina Vircillo Bresson is an Executive Producer, director, and writer working in production and visual storytelling for over 25 years. After studying visual art and earning a BFA from Rutgers University, Mason Gross School of the Arts, she began her career in post-production. In 2006 she launched her own production company in New York City, Three One Creative. Her company's groundbreaking work has won industry recognition including Promax, BDA, Telly and Emmy awards. Her company's high-profile client list includes most major networks and media brands, including, Nickelodeon, MTV, VH1, Food Network, NBC, ESPN and Scientific American. http://threeonecreative.com
Source: Marianne Pestana Public Relations
Related Media