The Truth Isn't All It Seems
Epic new book challenges popular notions of truth and asks readers to distinguish fiction from nonfiction
Press Release
-
May 6, 2016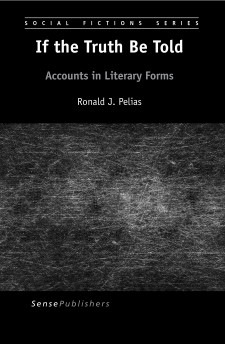 Kennebunk, Maine, May 6, 2016 (Newswire.com) - What ideas about the nature of truth help people in their daily lives? What kinds of evidence do people value? How do people make sense of their experiences? What helps people to make sense of the news and world events? In the "information age" how do people evaluate the many stories, blogs and social media posts encountered daily? Are there times when can fiction be more truthful than nonfiction? These are some of the topics ground-breaking author Ronald Pelias, Ph.D. explores in his epic new book, If the Truth Be Told: Accounts in Literary Forms.
While written as an engaging set of five literary works about topics people encounter in the daily news or can personally relate to, such as aging, religion and crime, Pelias challenges readers' notions of truth. Moving through the book from beginning to end, readers may or may not know whether they are reading a nonfictional or fictional text. Pelias intentionally subverts assumptions readers may have in reading the different pieces in order to blur the boundaries of what counts as evidence, what might be accepted as truth, and what might be of use in people's everyday lives. Pelias invites readers to consider what they value and why. For those that "must know" what is or isn't fiction, there is an appendix at the end of the book that details the inspiration for each story.
According to series editor, Patricia Leavy, Ph.D., "Everyone should read this book. The author is a gifted writer so it can be read for pleasure, but readers will think about it. A great summer read that leaves a lasting impression." This book pushes readers to confront questions about the value of so-called "facts" and the potential of both fiction and nonfiction to contribute to human understanding. People who love literature should pick this up now.
If the Truth Be Told is the most recent release in the Social Fictions series, the only academic book series that exclusively publishes literary works based on scholarly research. Series creator and editor, Patricia Leavy, Ph.D., an independent sociologist and novelist (formerly associate professor of sociology, chairperson of sociology and criminology, and founding director of gender studies at Stonehill College) started the series because she was frustrated with that only limited kinds of writing count as valuable in higher education. Believing in the unique power of literary forms to engage people and fueled by research in literary neuroscience that suggests reading fiction affects readers more deeply than nonfiction, Leavy partnered with the academic press Sense Publishers. The Social Fictions series has become one of their fastest-growing and most successful book series, garnering numerous awards including a 2014 Special Achievement Award from the American Creativity Association.
For summer reading, Sense Publishers is temporarily offering free shipping and 25% off this title. Use promo code 192837 at check-out here.  
The book is also available on amazon.
Contact:
Ronald Pelias, Ph.D.
Review coies available for media upon request. Contact: Sense Publishers
Source: Sense Publishers
Share:
---
Categories: Books, Writing, Humanities, Philosophy, Culture, Education
Tags: books, education, evidence, fiction, information-age, news, nonfiction, publishing, reading, truth
---